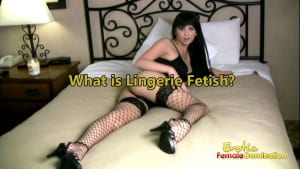 Lingerie fetish is a specific fetish for various types of sexy undergarments. It's a turn-on for many people, as lingerie is generally marketed to be sexually enticing, but those with an actual fetish for it rather than just a liking may be focused on one piece or style in particular. For example, a man may find it hard to be turned on unless a woman is wearing stockings, or a woman could find it difficult to truly enjoy sex unless she's wearing a leather corset. Since lingerie is fairly mainstream, it's an accessible fetish to many, with countless stores and designers devoting themselves to offering the sexiest lingerie. 
Lacy bras and panties are perhaps one of the first things thought of when lingerie is mentioned. And yes, someone with a lingerie fetish may be specifically attracted to these common and alluring undergarments. Popular retailers like Victoria's Secret and Fredrick's of Hollywood specialize in lingerie, offering a wide variety of products. Sheer lacy bras, tantalizing push-ups, even cupless bras that leave little to the imagination. Panties may be skimpy thongs, boy-shorts, or something more classic. Some of them are comfortable, some much less so, but all are designed to make women feel sexy and to make their partners ache with lust. 
The next most popular category would most certainly have to be stockings. Leg and foot fetishes are possibly the most common, and there are so many other fetishes and styles that cater to this as a result. But focusing on lingerie rather than BDSM kink gear, the classic sheer black stockings remain a favorite today. For a man with a stocking fetish, simply seeing a woman in public wearing a skirt, stockings, and heels can be an unbearable turn-on. You can imagine how much more intense it is when their lover is aware of this fact and dresses accordingly, teasing him with her stocking-clad legs. In addition to this style, there are also fishnet and fence-net stockings which often have a "sluttier" connotation to them when compared to standard nylon stockings and pantyhose that can be worn in a professional setting and in the bedroom. Accentuating the legs and giving them a smooth appearance and feel, stockings are a perfect addition to any lingerie outfit. Garter belts are another lingerie fetish associated with this. Some women prefer them to "stay-up" stockings, which have a tendency to not stay up, the garter belt keeping them held firmly in place. And for someone with a garter fetish, the sight of those straps stretching up along a pair of smooth thighs is a visual treat, also drawing more attention to what's between those thighs.
Corsets too are a classic staple of lingerie history and popular with lingerie fetish fans and many others. Cosplay fetishists, leather and latex lovers, and BDSM enthusiasts often enjoy corsets, but they're rooted in lingerie. Cinching the waist and pushing the breasts upward either mildly or to the point that they're nearly spilling out, a corset accentuates a woman's hourglass figure and can be striking whether worn beneath an outfit or on its own in an intimate environment. Some are more fashionable, smooth and relatively comfortable, while others can be quite constricting and confining. And for some, the tight discomfort of a corset is desired, a small price to pay for the results it gives. 
But lingerie is not so easily categorized, as there are all sorts of other variations like teddies and body stockings and nightgowns, each of which has its own unique appeal to someone with a lingerie fetish. And, of course, all the different materials like lace, nylon, and silk, any one of which someone might have a particular kink for. Lingerie fetishes are, thankfully, explored well both in mainstream porn and amateur content, so there's no shortage of quality videos featuring sexy women (and even men) in tantalizing and seductive lingerie.