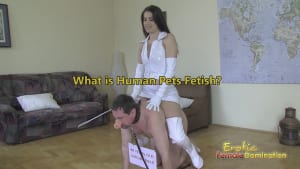 Human pets fetish is a niche of BDSM that focuses on a Master/pet dynamic rather than a Master/slave one. Sure, they sound similar, but the relationship is distinctly different and the human pets fetish also encompasses a wide variety of additional kinks. 
The key component of this fetish is that the submissive takes on the role of a pet. Most often, this also involves some degree of being treated like an animal. For example, the pet could wear a dog collar as a symbol of ownership, be instructed to walk on all fours like an animal, or wear additional accessories or fetish gear to appear in some way more animalistic. This relationship is still most often rooted in BDSM, like the "traditional" slave play. Pets and slaves are trained by their owner, are expected to know their place, endure punishment of some sort, and also are cared for. But for all they have in common, human pets are more of a niche subset of BDSM. 
Training is a major kink involved with human pets fetishists. However, the methods are different than with most BDSM, since they often emulate how one would train an actual animal. A bad pet may be scolded, whapped with a newspaper, caged, or muzzled. Naturally, these are all particularly demeaning for a human to be subjected to, which is part of the appeal for human pets fetish fans with a masochistic streak. Training could be specifically to encourage animal behavior, such as being commanded to "sit" or "roll over" like a dog. Or those training methods could be used in a more general sexual way, with the pet expected to perform oral sex or assume a specific sexual position on demand. 
The most recognizable element of a human pets fetish is the use of clothing and accessories designed to make someone look like an animal. Hoods with muzzles serve not only as a classic BDSM fashion component but are also designed specifically to emulate the look of a canine's head. Gloves and boots may be used to give the appearance of paws or hooves. Many of these also overlap with leather and latex fetishes, common materials for pet play accessories. There are less extensive ideas as well, such as leashes and collars, headbands with animal ears, and butt plugs with tails. In addition to all of this, human pets fetish may also be used in "furry" subculture. In this community, people often take on an alternate persona of a specific animal and may wear full costumes not unlike those of sports mascots. 
Submissive pets who are treated like cats or dogs may be expected to eat out of bowls on the floor. For those into bathroom play and humiliation, a pet might have to urinate outdoors, such as in the back yard. A human pets fetish involving horses might involve the submissive being ridden by the dominant, led around and posture trained, or having to pull a cart like a beast of burden. For the submissives, it is often that kind of dehumanization that is desired as part of the play. 
Building off that dehumanization is an element of control. Commands and punishment obviously reinforce specific behavior, and the fashion (often bondage-inspired) can also restrict things. But, keeping in the spirit of the pet roleplay, the submissive could be ordered not to speak except perhaps to make animal sounds. They could be told not to use their hands or stand up, while bondage gloves and other implements enforce this as well. This sort of control ties strongly into BDSM, with the submissive giving up some degree of free will and self-control in order to meet their owner's demands. 
If this is something you've ever been interested in, it doesn't mean you need to start out with a full-body latex suit and bondage mask. A submissive woman who wants to be owned and pampered might enjoy playing as a kitten, wearing cat ears and a tail. A submissive man who wants to be a loyal dog could wear a collar and be trained to follow specific commands. It can be a fun way to experience domination and submission, particularly for those who enjoy some level of roleplay in their sex lives. And for those who want to take things more seriously, there are clothing designers, professional Masters/Mistresses, and communities that embrace the human pets fetish and understand that it's a consensual and erotic form of role-playing rather than something obscene.