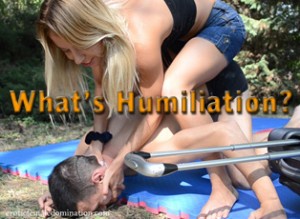 Humiliation fetish refers to a number of different practices that are undertaken by dominatrices and mistresses in order to keep their slaves and servants in line. The niche itself is so broad and varied that it would be impossible to cover the entire basis of it in this text, although a good level of information regarding the major players in the world of humiliation will be mentioned.
Put simply, as the name might suggest, humiliation fetishization is about getting sexual gratification from being treated poorly as a sub or, from the position of the dom, getting sexual gratification from treating someone else poorly. There are a number of tactics and systems that people can use in order to achieve a desired level of humiliation, and the correct value – as well as how it is achieved – will vary from servant to servant and domme to domme.
Steps that a dominatrix can take in order to make a slave feel humiliated can vary. Most commonly, getting the person to perform an action that makes them feel pathetic, useless and worthless is the best way to go about it.
One of the most common steps taken for humiliation is to make a slave worship a body part. It can be anywhere, although the most common areas are the ass and the feet. Once there, the sub might lick, kiss and talk about the area in very clear detail to ensure that the mistress fully understands how much the slave admires that body part.
Additionally, physical punishment often goes hand in hand with humiliation. If a submissive male makes the wrong choice and his dominating female notices, she might subject his body to some form of pain. It could be a slap, it could be a spank, it could be a wide variety of punishments – all that is required is for the slave to feel like he is being dominated in order for the desire for humiliation to be achieved.
Dressing up and being made to perform non-standard tasks can also be a stepping stone to humiliation. For instance, sissification is dressing a man up as a woman and taking him out to shop for dresses – this would be classed as a humiliation via roleplay. As an example of non-standard task performing, eating out of a dog bowl, barking for a piece of food or any other activity that leads to the slave feeling demoralized can also assist with the sensation of humiliation.
Public humiliation is probably one of the more specialized desires of a slave: they may feel as if they would feel much better being treated like a bad servant when other people can see them. Public humiliation goes hand in hand with exhibitionism and takes the humiliation fetish one step further with making it available for the public to watch and see.
Being humiliated can often be a desired trait for men with a lot of power, or those that feel as if they are regularly in charge and commanding others to undertake poor tasks. As a result of this humiliation, they may be able to function better in their real life knowing how quickly they can be reduced to their knees and made to do things others would consider wrong or immoral.
Finally, verbal humiliation can also be considered as one of the large players in which a subject is treated poorly. Many targets will be picked on based in their weight, penis size, ability to have sex, wage or any other number of factors that are considered to be below standard when compared to the rest of the population. Verbal humiliation generally always exists in tandem with many of the activities above, although some prefer to have it isolated and focused upon in its entirety.