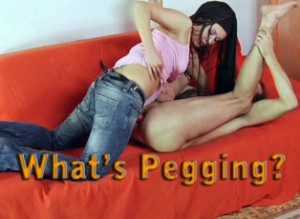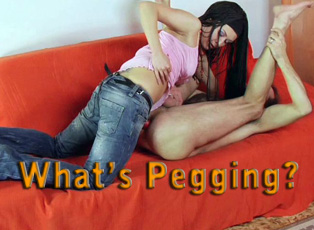 Pegging is a sexual practice whereby a female uses a strapon to penetrate another individual. The word is typically used to describe a male receiver, although some may describe female on female action as pegging as well. Pegging has a number of advantages and can be very pleasurable for both parties – this article will outline some of the history behind pegging as well as discussion on healthy role reversal sex.
The word itself was coined by an individual called Dan Savage – before he popularized the word, there was no standard term used to describe the act. There is evidence that the practice of stimulating the male anus has been around for hundreds – if not thousands – of years, although there is generally no strap attached to the item in question and thus, does not qualify as historical evidence of pegging.
Pegging is practiced by a woman putting on a strapon and entering the male's anus. The general doggy style position is favoured by many, as it gives the best chance at pleasure with minimal risk of internal damage and lower levels of discomfort. While engaging in pegging, the female may decide that she wishes to hold onto the male's hips in order to assist with her efforts. This may also add to the sensation of being in power and control of what happens.
Pegging can be enjoyable for both the male and female involved for different reasons. From the male's point of view, the generally submissive nature of being fucked as is the standard practice in heterosexual relationships is reversed – there may be a level of sexual gratification that stems from the fact that this power exchange exists. Additionally, the stimulation of the prostate in the male's anal passage can be very pleasurable if it is done correctly. The male's prostate acts as a rudimentary G-spot and provides heightened levels of enjoyment when it is stimulated.
From the female's perspective, pegging can be enjoyable for the opposite reasons of control. Being on the giving side of sexual intercourse can be empowering and enjoyable for many women who wish to know what it feels like to 'give' sex. Additionally, many advanced strapons that are used for pegging will have some form of stimulation platform for the female's vagina, with the constant motion being mutually pleasurable for both parties involved. Finally, some couples that perform pegging may prepare the female's vagina beforehand, placing a vibrating device against the clitoris in order to bring about enjoyable sensations during the act.
As a general guideline for pegging, it is important for the male to initially remain as relaxed as possible. Finger play is encouraged to initially prepare the area with plenty of lube being a requirement to avoid injury and bypass any potential rubbing or chafing. It's natural for men being pegged to feel a certain level of discomfort – this will subside relatively quickly, so they are encouraged to ignore it as much as possible and do their best to focus on the pleasure they are receiving instead.
Pegging is best done in the doggy style position for maximum mutual pleasure and to minimize the potential risk of injury or discomfort. After a few sessions of doggy style pegging, couples are encouraged to try other positions and find one that works for them.
Here is a short story relating to pegging:
Alice positioned herself behind you. As her sexual slave, it is your responsibility to do your best to follow her every command and fulfil her every desire. Today, she is going to fuck you in the ass like the good little whore you are, and she wants to enjoy every minute of the action with her. She initially lubes up the region and inserts a single finger: you gasp as she penetrates your virgin asshole. The feeling of being completely out of control of the situation makes you extremely horny: you cannot wait to be taken by your mistress.
In one swift motion, Alice inserts the entire length of her lengthy strapon deep inside your anus. The feeling is amazing – you never expected it to be this pleasurable. She allowed you to get comfortable with the feeling for a few seconds before slowly pounding away, holding onto your hips as she thrusts deeper and deeper. Your cock is ready to explode. This may be the first time you've been pegged, but it certainly won't be the last.