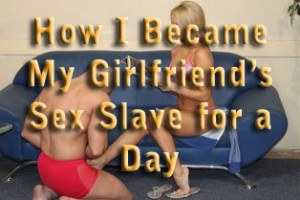 I always knew that deep down inside, there were some alternative and taboo fantasies in my girlfriend's mind. She's a punk rocker alt girl with tattoos, stretched ears and a fun-loving attitude that makes her productive, honest and caring. I fell in love with her from the moment we met – everything about the way she talked, walked, kissed and held me was perfect. We have been together for close to 6 months now, and as a treat for her birthday, I made sure she got an experience she was never going to forget.
I spoke to one of her closest friends a week before she turned 21, trying to find out what type of present would outdo anything she's had before. Turning the conversation to sexual fantasies, I was told that Sally loved nothing more than the idea of being a dominatrix, and that having a personal sex slave for a day was what she desired over everything else.
I must admit, I was a little scared at first, but I was more than happy to allow her to have complete dominion over me if that was her desire. I loved Sally, and I was set on becoming her personal sex slave.
The big day rolled around, and I ensured that no one else had plans to meet up with her. We share an apartment, so in the morning I gave her a mixed bag of presents and watched as she opened all of them, wide eyed and happy. When we finished, I explained to her that there was one present left, and that she had to close her eyes and wait for me to say it was okay to open them. Sally listened, eagerly excited – asking what it was and expressing a deep desire to get it over and done with. The suspense was killing her.
I stood up, stripped off my pajamas and reached under the bed, grabbing the collar and leash I had purchased from a sex store the day before. After putting it on, I walked over to my girlfriend's side of the bed, placed the lead in her hand and told her to open her eyes. She looked on with confusion.
"For today, I'm yours. Your personal fuck toy. You are my master." – I curled up and looked longingly at her, waiting for a reply.
Sally instantly clicked with what I was offering and made no hesitation about the instigation of action. In one swift movement, she twisted herself toward me and tore off her booty shorts, displaying a fresh, plump pussy that was begging to be pleased. I looked on in awe: I loved her vagina – it was magnificent. I leant forward in an attempt to taste her, but received a swift slap to the side of the face: the femdom in Sally had already started to manifest.
"I didn't say you could taste me yet. Lick my feet, then slowly work your way up to the inside of my thighs. If you do a good enough job, I'll consider allowing you to give me an orgasm." – Sally was about as serious as a dominatrix could get right now, and with me as her slave, she knew she'd get anything she wanted.
I did as I was told, putting the soft, beautiful pink toes of her feet in my mouth while running my hands up and down her calf muscles. She had pristine feet that were well kept and maintained – her soles were free of any blemishes and had a warm, silky feel whenever she pressed them against my chest.
As I moved closer to my master's intimacy, she leant back and opened her legs, inviting me in with a single word.
"Lick." – Sally almost moaned her command to me.
I lapped up the deliciousness of her juices and buried my face deep against her clit. Sally played with her nipples and moaned consistently. I've always known what the best way to please a pussy is, and my beautiful mistress was getting the full extent of my knowledge applied to her clitoris.
She grabbed ahold of my leash and positioned her hand near her belly button, using the base of her palm to anchor me deeper against her precious pussy. I found it hard to breathe as she started to grind her mound into my face as hard as she could. Within seconds of this circular motion, Sally moaned in ecstasy as she reached orgasm. The power she had over me was all too much: her orgasm lasted for an incredible amount of time as I continued to serve her clitoris like the slave I was.
For the remainder of the day, Sally took me to different parts of the house, getting me to eat her pussy and on one occasion, her ass. I loved how my master was treating me, and for a treat at the end of the day, Sally decided she would allow me to have an orgasm under her complete control.
With my leash tied around the bed post and me on all fours, Sally approached me from behind, buried a lubricated finger into my ass, took a hold of my shaft and started to milk me. The sensation was incredible: I was always slightly scared of being violated, but as a slave, I knew that any contention would be futile. Sally was in control, and if she wanted to finger my asshole, she had every right in the world to do so.
After a few minutes of stimulation, Sally hit a spot that sent shocks through my entire body. I started to throb and pulse thick drips of cum from my cock. Sally started to spank me as I orgasmed, which only made the situation all the more humiliating. When I finished cumming, Sally untied me, thanked me for being the perfect little slave and took my leash off, storing it in her bedside table.
"The next time won't be this easy, you know?" – She laughed semi-sadistically and smiled at me, knowing that I would not resist future attempts to make me her slave.
By Dominatrix Draven
Fetish: Slave