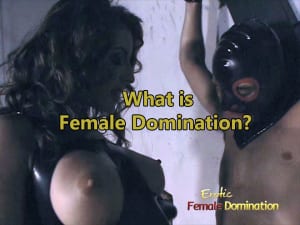 The traditional 'role' in a relationship is that the man holds all the power. He does absolutely everything to for the woman. It is somewhat of a 'power play'. Female domination aims to flip that on its head, and I am sure that there are both men and women which enjoy this rather wonderful fetish.
The history of female domination is long. In fact, it can be traced all the way back to the Ancient Greeks, although more on that in a short while. For the most part, this is a fetish which is commonly accepted nowadays, at least in the BDSM community. In the past, it was very much done on the 'down low'. Men where not supposed to let their women be in control of anything. As a result, you were not supposed to enjoy being lorded over by a dominatrix. Hell, if you were, you would probably be ridiculed!
So, let's shoot back on the history of female domination. It can be traced all the way back to ancient Mesopotamia. I am sure you are a bit horny and looking for some amazing female domination videos, so I am not going to bore you with too much history here. However, the first record that we have of this fetish comes from this era and the Goddess Inanna.  Various poems and other texts were written where people submitted themselves to the power of her. Rituals were fraught with pain in a bid to get this Goddess to give them pleasure. This tied into cross-dressing somewhat, which is likely to have originated through the same Goddess, but that is a story for another day!
Around the 18th Century, female domination as a kink started to become incredibly popular. Around the world, brothels introduced women who specifically dealt with female domination. At that point, this fetish was virtually cemented as something that people would absolutely love forever. Shortly afterwards, female domination started to incorporate the BDSM that we all know and love.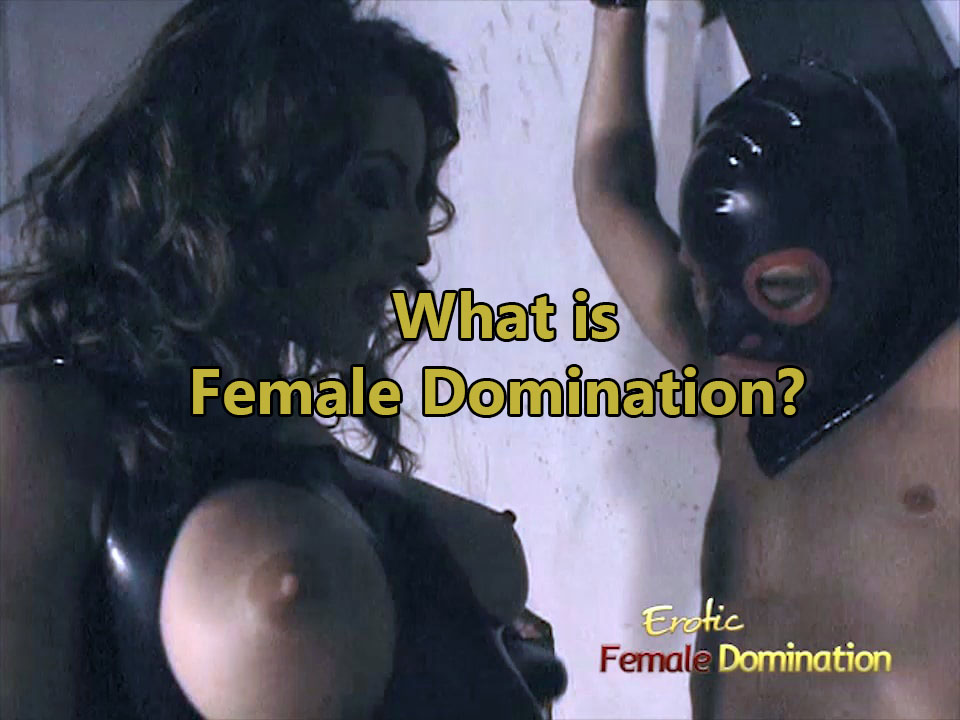 Obviously, a lot of it has been underground for much of this time because, traditionally, the man was not supposed to let themselves be controlled by a woman. Yep. Sex was completely different back then. However, this is how fetishes are born. Something that you are not supposed to like becomes a kink. It then overtakes your life and you need it so badly. This is probably why female domination is so popular now.
Nowadays, when people think of female domination, they think of men who are tied up, whipped, and just controlled. This is the type of domination that you can expect to see in a brothel or something like that, albeit it is probably going to be very underground as the number of people who enjoy this type of thing 'in real life' is going to be minimal but, as you are going to discover throughout this website, female domination covers so much more than this. Hell, you have probably watched female domination porn videos in the past without actually realizing that you were watching them! 
What is female domination? 
Well, it is any sex act where the woman takes a leading role. In most cases, the man will be submissive. He will just sit back and take it without any complaints. These videos are incredibly popular in the porn world because both men and women alike love the man taking a bit of a backseat role. If you watch 'normal' porn, then it is likely that the man will take more of a leading role, and that just is not fun for some people!
Most of the female domination porn that you see online is very much 'dominatrix' in nature, although it really does not need to be. By dominatrix, we mean that a woman is carrying out BDSM with her leather catsuits, her whips, her chains and what have you. In fact, if you watch many female dominatrix porn online, you will see the man is tied up and he can't do anything but submit to the will of his master!
Of course, not all female domination porn is about men being tied up. Anything that involves the man taking a submissive role could come under this heading. In fact, there is some pretty popular porn which involves the woman doing nothing but ordering the man to do her bidding. It does not even need to be sexual in nature. Sure, it may not be as popular as the porn where the two are having sex, but it is awesome!
Why is female domination porn so popular?
Hard to say.
This is probably one of the most popular types of porn that we cover on this website. I have no doubt that it is down to the fact that it is a bit 'different' without being incredibly different from the norm. For example; there are some porn fetishes where you can imagine only a small subsection of the community being interested in it, for example; breast smothering. This type of porn is amazing. I have no doubt about that. However, I am sure that there are only a few people out there who have ever really felt like they really want to get smothered by boobs. However, there are so many men out there who have wanted to be dominated by a woman. It changes up the whole perception of sex.
It is not even just men who are interested in this type of porn. Hands up if you are a woman who has wanted to tie up her man and do whatever you want to him. There are plenty of other people out there exactly like you. They want the power that life never really gives them, and that is what makes this type of porn so popular.
If you are only starting to get into the whole 'fetish' scene, then female domination is the best place to start. It is as close to normal porn as you can get, while at the same time it opens a wealth of other fetishes that you may not even know that you have. For example; once you start considering female domination porn, you will notice the following:
Feet worship. This is probably one of the major fetishes out there right now and you can see countless pornos online which involve feet worship.
Hardcore BDSM: you have your chains, your whips, your leather catsuits, all that stuff. If you can't find somebody who is interested in doing BDSM with you 'in real life', then this is the best route to go down.
Humiliation porn: this is a whole different fetish here, but many dominatrix seem to work embarrassment and overall humiliation into their 'techniques', and it really helps to add to the whole 'power play' thing. Not everybody is going to like it, but you should really, really consider it.
Hypnotism: no. don't worry. I don't think there is a single porn out there where somebody is literally hypnotized into sex. I don't even think it is possible or legal to do that. However, the female domination porn really makes it seem like this is a possibility!
Something for Everybody 
This is one of the reasons as to why female domination porn is so popular as a kink. Hell, I think absolutely everything should be able to find something that they can enjoy with female domination if they put their mind to it. While female domination normally seems like it is going to be the hardcore stuff with whips, chains, and all sorts of pain, it does not have to be. All it means is that the woman is taking control of the situation. This could be absolutely anything. It could be as simple as a man being blindfolded and then pinned to the bed while the woman has her wicked way with him. Simple stuff like this is amazing and I am positive that it can get just about every man going.
Of course, as I mentioned before, female domination does start to branch out a little bit if you want that. One particular fetish is men being put through pain while they are humiliated by the woman in control of the situation. Men and women alike love this type of porn and I am positive that it is something that you are going to enjoy too. 
Not Just For Men!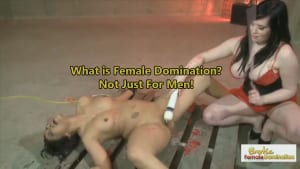 Contrary to popular belief, female domination is not just for men. Hell, it is probably one of the most popular types of porn watched by women bar lesbian porn (yep, women, even straight ones, really do love watching their lesbian porn!)
The reasons for this should be obvious; women absolutely love the idea of being able to dominate somebody. They probably do not get to do it that much in real life because men are not always going to be the biggest fans of it, so they resort to porn!
You will be surprised at how kinky the women who watch female dom porn tend to get too. They absolutely love it when the man is under the complete control of the woman. Like, the best thing about watching porn is being able to enjoy the things that you want in life but never really have the opportunity to get for whatever reason. This is one of the reasons why I personally love female domination, to be honest.
Not just videos! 
Throughout this page, I have mainly been talking about female domination porn as involving videos and the like. However, there is so much more than just videos out there. There are millions upon millions of pictures that you can enjoy too!
What you must remember is that when most people think about female domination, they think about dominatrix. Photos like this are incredibly rife online. For example; you are likely to find plenty of photos with women dressed up in leather gear and the like. They may not even be naked, but there is just something about the way in which the catsuit hugs their body which is just so incredibly perfect. It is something that I personally enjoy. You also feel like you are being dominated by the woman in the photo, even if they are not moving, because you just want to rip off their catsuit and have your way with them.
In recent years, the types of clothing that these people are dressed up in has changed drastically. Many women are starting to take on what is traditionally 'manly' roles. Again, as a symbol of their power. For example; you will probably notice that a lot of female domination porn that you find online is going to include superheroes and the like. If you are into nerd culture, and probably a lot of people reading this are because it has become so 'accepted' nowadays, then this is a type of porn that you are almost certainly going to want to look into because it is just so damn thrilling. Basically, any type of porn where a woman takes a major role in controlling the man can be found online. There is even some cool 'secret agent' stuff that you can sink your teeth into. This comes from both videos and photographs.
Want to watch some awesome female domination porn?
Take a browse through our website, particularly the porn that you find in this category. You will be enthralled by the amount of porn there is to sink your teeth into. There is something for absolutely everybody out there. Honestly, if female domination was not your think before, you should still give it a whirl because this may very quickly become one of the best fetishes you have ever experienced! There is just so much of it out there.