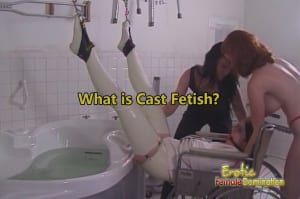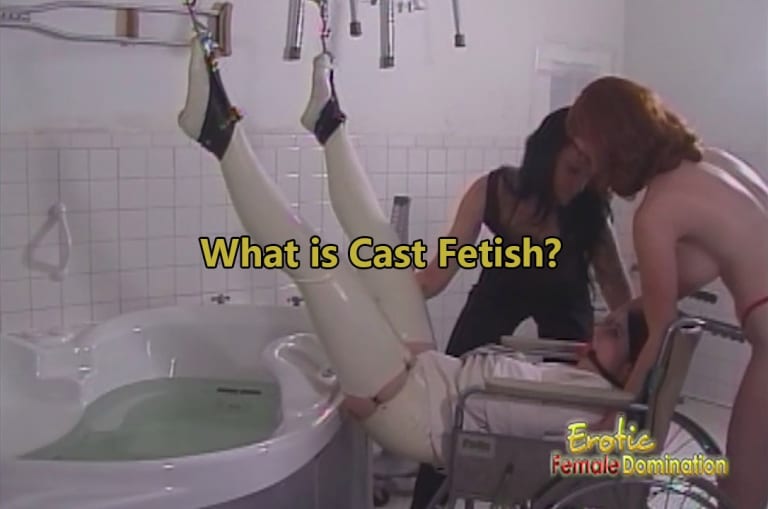 Cast fetish is a fetish for orthopedic treatment such as plaster casts, but also extending to leg braces and even wheelchairs. Specifically, however, this fetish focuses on plaster or fiberglass casts used to mend broken arms or legs. The erotic aspect of this fetish can be difficult for outsiders to understand, in part because it is tangent to a number of other fetishes. Those with a fetish for leg casts may also have fetishes for legwear or feet and toes (which are often partially exposed). There may also be some sort of attraction to disability or vulnerability, whether leaning toward a sadistic thrill of seeing someone hobbled or based on more compassionate emotions such as wanting to help or tend to someone who is hurt.
 Indeed, leg casts are the most common form of this fetish. Unsurprisingly, legs and feet in general are also extremely fetishized, with a number of sub-fetishes such as legwear, leg crossing, high heels, footjobs, and toe fetishes. A cast fetish can be related to some of these. For example, many casts are bland and white, so it is common for them to be wrapped in colorful bandages to give them some level of aesthetic delight that will make the patient more comfortable with their situation. These vibrant colors can make a leg cast look similar to thigh-highs or leggings, drawing attention to the bandaged limb. 
A leg cast often reaches down to the foot, but doesn't envelop it completely. The toes, for example, may be left exposed to the air which draws attention to them as they peek out of the hard cast. In this scenario, someone with a cast fetish likely has a fetish for feet and toes as well, much like one might have a specific fetish for open-toed heels or toe socks.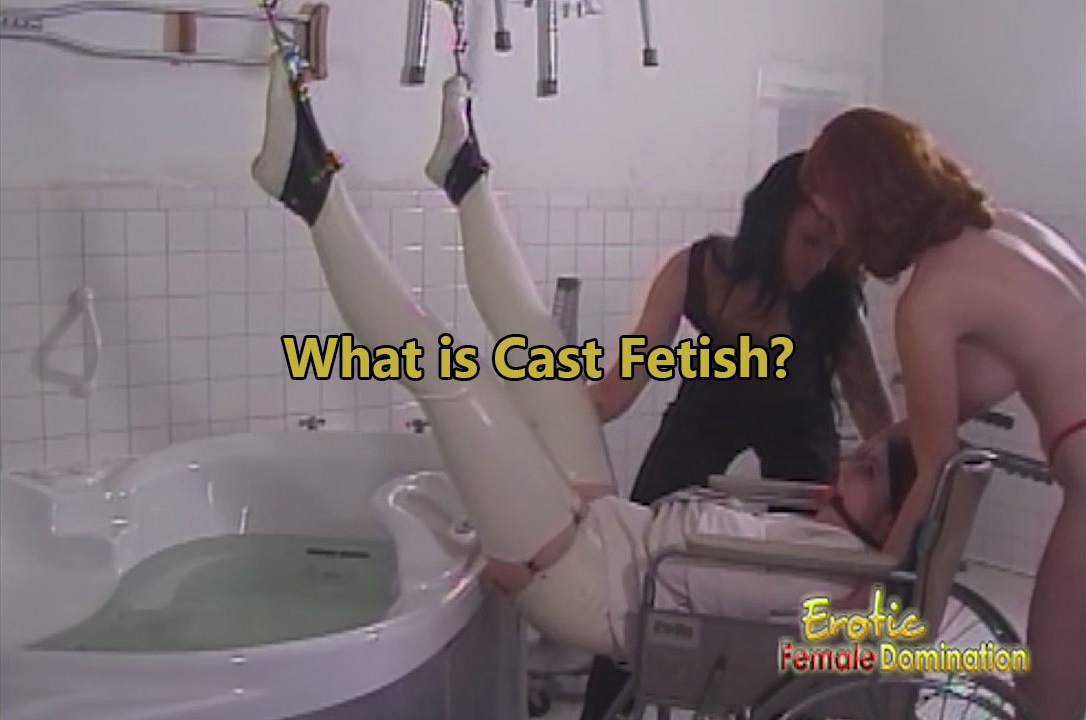 Casts can also be seen as a form of bondage. After all, the whole point of them is to immobilize a limb so that it can properly heal. Because of this, people with a bondage fetish can also find casts erotic, in addition to other medical devices such as leg or neck braces. And similar to other encasement fetishes such as liquid latex and mummification, the cast fetish can focus on their restricting nature and the way they hold a specific shape. One can even make their own cast at home, whether for their own limb or as part of BDSM play with a partner. 
Another way that a cast may appeal sexually to someone is as a symbol rather than as a fetishized object itself. In this scenario, the sight of a cast on a person identifies them as injured or crippled or some other label the viewer has in their mind. A sadist, for example, may view this from the point of view of a hunter, seeing the person wearing a cast as injured "prey". This may make that person more attractive to them as a sexual partner. Likewise, someone who has a nurturing personality could view the cast-wearer as someone in need of help and attention. Their sexual attraction to this person would lean toward the submissive side, an eagerness to please and tend to the "wounded". This could also be part of a medical play fetish, with the person wearing the cast taking on the role of a patient and the other in the role of a nurse or doctor. 
Cast fetish may seem very specific and odd, but you can see that the physical cast itself and the concepts it represents can be tied into a number of sexual and BDSM themes. Naturally, it can be difficult to work into one's sex life. Most people wouldn't wish an injury on their partner just for the sexual thrill of seeing them in a cast, after all. And while one can create a temporary homemade cast to enjoy this in real-life, there are also online resources such as cam shows and custom videos where women and men will wear a cast on their arm or leg. Those who understand the sexual and fetishistic appeal are able to really play this up for their viewers, offering a rare opportunity to indulge in the kink outside of the imagination.