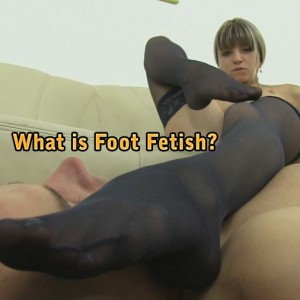 Foot fetish is the most common form of sexual fetishism and is mainly characterized by a very intense interest in feet. People that practice this type of fetishism have a certain weakness when it comes to feet and their shape and style. For example, there is no man in the world who wouldn't be attracted by a beautiful woman's legs because they are long and smooth, and their amazingly fine skin is practically asking him to touch them up along their entire length until he reaches that amazing and hidden place in between them where all the pleasure and attention is generally centered. When we talk about foot fetishism we are actually referring to feet and that type of passion people use to develop for something they are really attracted by.
For a person that is into foot fetishism, the points of attraction are more innocent, if we can call it that, than for a man whose attention is centered for that place between her legs. A person who loves feet is attracted by the shape of the foot and toes. For example if the toes are long and majestic or short and joyful, if the nails are painted and elegant; the arches of the feet could also be a very intriguing point of interest because they suggest a very elegant and daring shape, and men seem to enjoy curves of all types. Some like the curve of a woman's foot, but is that any more odd than a man who loves the curve of her waist, of her calves, of her back, or of her breasts?
Continuing the comparison between a man seeking an adventure with a beautiful woman and a foot fetishist looking for the most beautiful pair of feet in the world that would suit his needs and aspirations, there are other specifics that the fetishist enjoys. While most men enjoy the way a woman decorates herself with jewelry and nice smelling perfumes, a foot fetishist similarly loves the way a woman decorates and cares for her feet. Many women who understand the beauty of feet love to use jewelry specially created for this purpose like toe rings, ankle bracelets and many others things to enhance their natural appeal. Naturally, there is also a great interest in professional care, such as foot massages and pedicures, to keep them looking beautiful and pampered.
How does foot fetish actually manifest? Well first you have to understand that foot fetish is actually the most common fetish among men. The man who worships a woman will start by kissing her feet and making her feel extremely relaxed by offering a foot massage and maybe something even more sensual and amazing. We all know that our feet are very sensitive to touch, and by touching someone's feet we can actually cause amazing feelings and emotions. A foot worshiper will always give more attention to this part of someone's body and will kiss and touch, will lick and explore every bit of his or her lover's feet.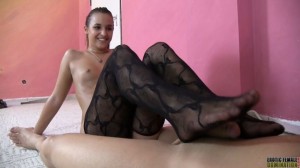 Nowadays foot fetishism is very often associated with femdom and male submission to a Mistress. By making the slave kiss her feet and lick her boots, a female dominatrix is actually humiliating him and lets him and the entire world know that she is the one guiding his sexual desires and keeping him under her control. I can only think of one very clear example: a very hot woman, all dressed in leather with amazing curly red hair and the most amazing body I have ever seen, laying down on a public fountain and relaxing her eyes somewhere in the far away horizon while her slave is at her feet embracing them and kissing her boots, wishing for her to let him feel the bare skin of her feet, to caress and kiss them like he only knows how. But let's not get into any more intimate details. We are going to let your imagination fly so you can continue our small fantasy example exactly the way you feel like.
Everyone's imagination is free so if you feel attracted to feet in general, then we invite you to explore this side of your sexuality and learn new things about what you and your sex partner could enjoy. There is nothing more relaxing and fun than free sex without limitations, constraints, or rules. Just have fun and enjoy your amazing fetish!
In Short:
A foot fetish is a sexual attraction or preference for feet or footwear. Individuals with a foot fetish may experience sexual arousal or pleasure from activities involving feet, such as kissing, licking, massaging, or smelling feet or footwear. This attraction can be focused on specific parts of the foot, such as toes or arches, or on certain types of footwear, such as high heels or sandals.
It's important to note that having a foot fetish is a normal and relatively common sexual preference. However, it's important to always respect other people's boundaries and ask for consent before engaging in any sexual activities involving feet or any other body parts.