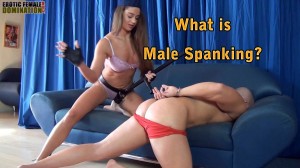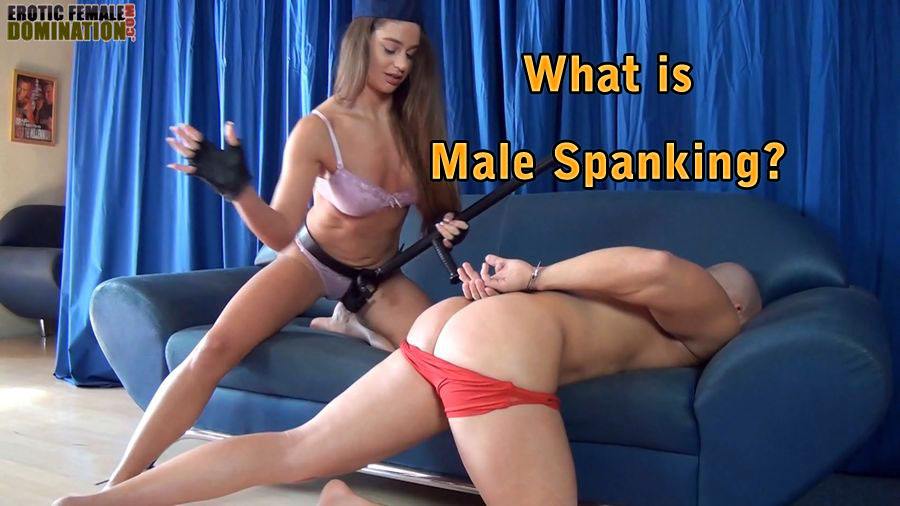 The atmosphere is perfect – candles lit, incense burning, sexy music filling the room. Your man comes to you, deliciously naked skin glowing in the candlelight. You see the hunger in his eyes and know that it matches your own. He lays down on the bed on his stomach and your eyes feast on his hot round ass. You run your hand down his back for a moment, relishing the feel of his skin. Then, your eyes focused on that beautiful ass, you strike – smacking his ass with your flat open palm, feeling it smart and knowing it's even more acute for him. Your ears find joy in his delicious moan of pain and pleasure as your eyes feast on the red mark your hand left behind. You raise your hand, preparing to strike again.
Welcome to the exciting and erotic world of male spanking. Spanking is one of several forms of sexual dominance play. It is often, but not always, accompanied by other bondage and discipline pleasures ranging from lightly tying your partner to the bed to full fledged leather straps and ball gags. Sometimes male spanking is done with a flat open palm, sometimes with a paddle, hair brush, or horse crop. Male spanking comes in many forms, as wide and varied as the imagination of the partaking partners.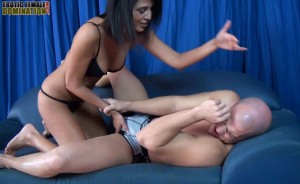 If you are new to the world of discipline, you may wonder why someone would choose to be spanked. There are many reasons why your male partner might be into this. For some, the trials and pressures of daily life create stress, and letting go and letting someone else be in charge for a while can be very attractive and fulfilling. For others, pain equals pleasure – as in "it hurts so good." Some men simply enjoy the occasional sharp and playful whack on the ass during intercourse or while masturbating. Others enjoy a more prolonged spanking session – which creates discomfort but can also transport the "spankee" into an almost Zen-like state of meditation, as the body releases endorphins in response to the perceived body trauma. Some men enjoy full-fledged bondage and discipline sessions where they are made to feel completely helpless and at the mercy of their partner. For them, the humiliation and helplessness are the biggest turn-ons, and the spanking is only one small aspect to that. As with any sexual act, communication with your partner is vital, in an atmosphere that is open, loving, and truly accepting.
If you and your partner wish to explore the world of male spanking, there are a few tips to help you have the most enjoyable experience possible:
Communicate. Communicate. Communicate. – This deserves repeating several times. Sexual fantasies are often difficult to discuss with partners. Many of us carry a fear that our partners will be turned off or will think we are too weird for words if we share the deepest sexual desires of our heart with them. It can be difficult for your male partner to admit he feels the need for a good old-fashioned ass beating, but if you are able to lovingly accept him and help fulfill his fantasies, it will bring a deeper level of closeness to your relationship. You may also find that the act of spanking him awakens pleasures in you that you may want to wish to explore further.
Create a Safe Word – A safe word is a very important aspect of all discipline play, particularly as the play intensifies. Along with the desire for "more, more, more" comes the moment when a person feels they've enough – or even too much, and that is where the safety word comes in. It's very important to make this word something completely unrelated to the sexual act. Don't count on simply being able to tell your partner to stop, since saying "no" is usually part of the overall illusion of helplessness. Great examples of safe words are: Carolina, banana, or snaggletooth.
Explore New Tools of the Trade – As you enter the world of discipline play, feel free to explore different things. There are many and varied sexual tools, from the paddles, whips and cat-o-nine-tails found in your local adult shop to typical household items such as fly swatters and spatulas. The most basic tool of all, of course, is the human hand. The possibilities are endless and all a matter of personal preference. Be playful and open minded and you may discover exciting and surprising new pleasures along the way.
Fantasize. – When spanking, feel free to fantasize. Creating scenarios can greatly increase the pleasure and sharing. Perhaps you're the angry teacher paddling the ass of your very naughty pupil. Or your male partner might be a patient in the hospital, needing a special "spanking therapy" in order to heal. Maybe he's the dishonest bookkeeper needing to be punished after you discovered him embezzling money from you. Maybe he's a man you've picked up in a bar with the intention of expressing your will upon him. Let your imaginations soar together. You never know where they might take you.
The most important thing to remember is that no matter how disciplinary activities might appear on the surface, they are mutually consensual and and pleasurable activities. Any "hustle" or "threats" are only a part of the "atmosphere" and are never serious.