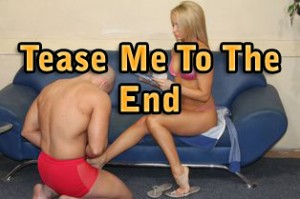 It's been 2 hours since I've been sitting my ass on this couch, a few inches close to her. It seems like today is "doing nothing" day, but with the perfect view. She's wearing a white blouse with a lot of holes in it, no bra and just a pair of black panties, barely covering her perfect shapes. It's driving me mad that I'm so close but can't touch her soft skin, can't smell it, can't do anything but just sit and… sit. She's looking at me with a smug face and she can read the desire in my eyes. I think I'm even drilling.
Her hand starts to go down slowly in the same time as her legs start to spread, increasing the perfection of this sight. I see her fingers gently touching her panties and going down her crotch in a sensual move, grabbing it slow and lifting it with her ass. Oh my god, I could jump with my mouth on that without carrying about the consequences. I let my head go closer and just when I start seeing more clear, her heel smacks my forehead back in its place. She just wants me to watch, not to touch. She keeps smiling and rubbing her panties, making small circles and getting them wet.
I dare for another try and try to be cute, going with my hand closer and making my fingers do a little walk. I'm so close to her now that I even feel like I've touched her panties a bit. She pushes my hand away making that "no-no" sign with her finger. Her legs go far apart leaving me with the face of a fattie in front of the cookie shelf. She bites her lips and rubs her pussy harder and faster, but the fabric of her panties is like a barrier.
She makes me remove them slowly and when I reach the tip of her toes with them, she lifts her feet up in the air, just enough for me to take a deep shot of her wet pussy throbbing under the excitement of a new round. She spreads her legs again and begins to rub her clit in slow circles, pushing the juice all over the place and mixing her moans with the moves. I'm just like a statue here… a hard statue, because my pants are barely holding the monster who pushes into my leg. Luckily she can't see it, otherwise she might stop and this situation would take a whole new turn. I want to enjoy this more!
Her left hand is playing continuously with her pussy, so she figures… why not torture me more? She pushes the other hand under her blouse and slowly lifts is just a bit above her nipples. Now my eyes are trying to divide themselves between the perfection of her pussy and the perfection of her round hard tits. She starts pinching and pulling her nipples, just to divide my attention and drive me crazy. Without realizing, I started rub myself over my pants. Still, I can't take my eyes from her slipping the middle fingers inside her tight pussy and moving them around, filling them with the same juice I would love to taste right now. She's so wet and looks so tasty, my insides are pushing me towards her like a magnet. I can't even think straight, right now I could settle for 10 days of ball busting, trampling, lashes and whatever she wants to do with me, just to throw my face in that heaven. If she would just let me put my tongue on her ass while she keeps doing that… just to have a tiny taste of perfection, just to be closer to her. My heart beats can be seen through my shirt, I breath as hard as she does, I keep rubbing myself and if I keep at it, I might just cum in my pants. She's watching me, she saw me rubbing my cock… now she's just moving faster and moans harder. She pushed her right foot on my crotch and rubs it by the way she feels the wave of pleasure electrocuting her body. There's no need for me to rub myself now, she's doing it more than fine and I don't know if it's intentionally or just accidentally. It would be stupid of me to complain.
She's deep inside herself now, I can't see her fingers anymore but I can see she's very close to orgasm, by the way her belly is trembling and her nipples are hard as small rocks. Her waist is going up and down, smashing the couch and making her kick me with her foot. She's screaming and barely breathing! The view is so intense that I feel a warm liquid flowing in my pants, warming my leg. Oh hell no…
With a big scream she comes loudly in front of me, curling her toes and having a red shivering face. Her orgasm was so powerful that she pushed me beyond the couch, on the floor with her foot. Luckily I didn't miss her cumming because my head was still towards her.  After a few more seconds of heavy breathing and smiling with satisfaction, she opens her eyes and sees me sitting at the corner of the couch and looking at her. She gets up, pushes her fingers again in her pussy, fills them up good, grabs the back of my head and sais "say A"…