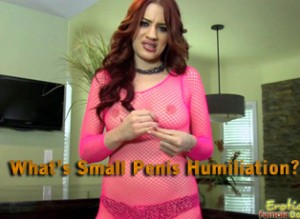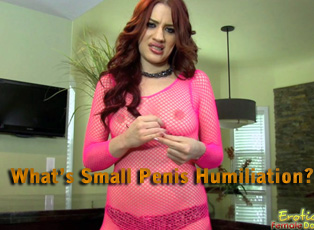 Small penis humiliation is the sexual pleasure derived from both being subjected to and subjecting others to verbal abuse based that criticizes the size of a male's penis. Generally performed by a professional dominatrix, those that abuse small penises have a very firm way of ensuring that the men they see leave feeling small, powerless and weak. This text will analyze different elements of the niche as well as relevant information that applies directly to watching small penis humiliation porn.
First and foremost, small penis humiliation is treated as a large fetish due to the fact that penis size is an important aspect of a male's identity. Many men feel as if that they are judged on the size of their penis, and while it might not always be the case, gratification via sexual recognition of this lack of large genitalia can be enjoyable for my submissive men. Generally, erotic humiliation via the verbal abuse of a small penis is undertaken by the mistress that claims them to be their servant or slave.
The verbal aspect of abusing small penises is the largest: in it, a dominatrix will do whatever she can to make a guy feel pathetic and useless given the relatively small nature of his penis. Things that are often mentioned by a dominating female while she practices small penis humiliation include denial of any intention of sexual interaction (for instance, saying that only large men are allowed to have sex with her), mentioning of how they are likely to be a virgin and disgrace and disgust simply because they don't fit the stereotype of a standard male.
A male that likes to watch small penis humiliation videos does not necessarily have to have a small penis: naturally, half of the population is under average, but this does not mean that all of them are deemed to have a 'small' penis. In fact, owing to the fact that regular pornography generally calls upon the male stars to have incredibly large penises in order to perform, many males get the wrong idea about the natural size of a penis and believe that they are unable to provide sufficient levels of satisfaction to a lover because they cannot replicate the same level of girth or length that a pornstar can.
Small penis humiliation might be coupled with jerkoff instruction. Put simply, this is where the dominatrix gives clear and concise information on how the male is to play with his penis while she watches. Generally, the female will mention at the start of the session that while she is unable to touch a man with a penis that small, she will offer him jerkoff instructions because she feels pity owing to the fact that he has such a small penis.
Here is a short story relating to small penis humiliation:
Oh my god! Just look at how pathetic and tiny that cock is of yours. You must be a virgin, right? I can't imagine what it would take for a woman to want to engage with something as small as that. I mean, it's so insignificant! I think calling yourself a man is a little bit of a stretch. Now, while I have no intention whatsoever of having that anywhere near me, I guess I can give you some jerkoff instruction so that you can at least get some pleasure from that small penis of yours.
So, listen to what your femdom mistress says, and give it a nice rub for me. I would say run your hands up and down the shaft – we both know that isn't going to happen, though! Now, go as fast as you can with your thumb and index finger. Does that feel good? Think about what it would be like to have a huge cock that you could fill me up with. Now I want you to cum all over yourself and I'm going to sit here and laugh at your small penis while you do it.