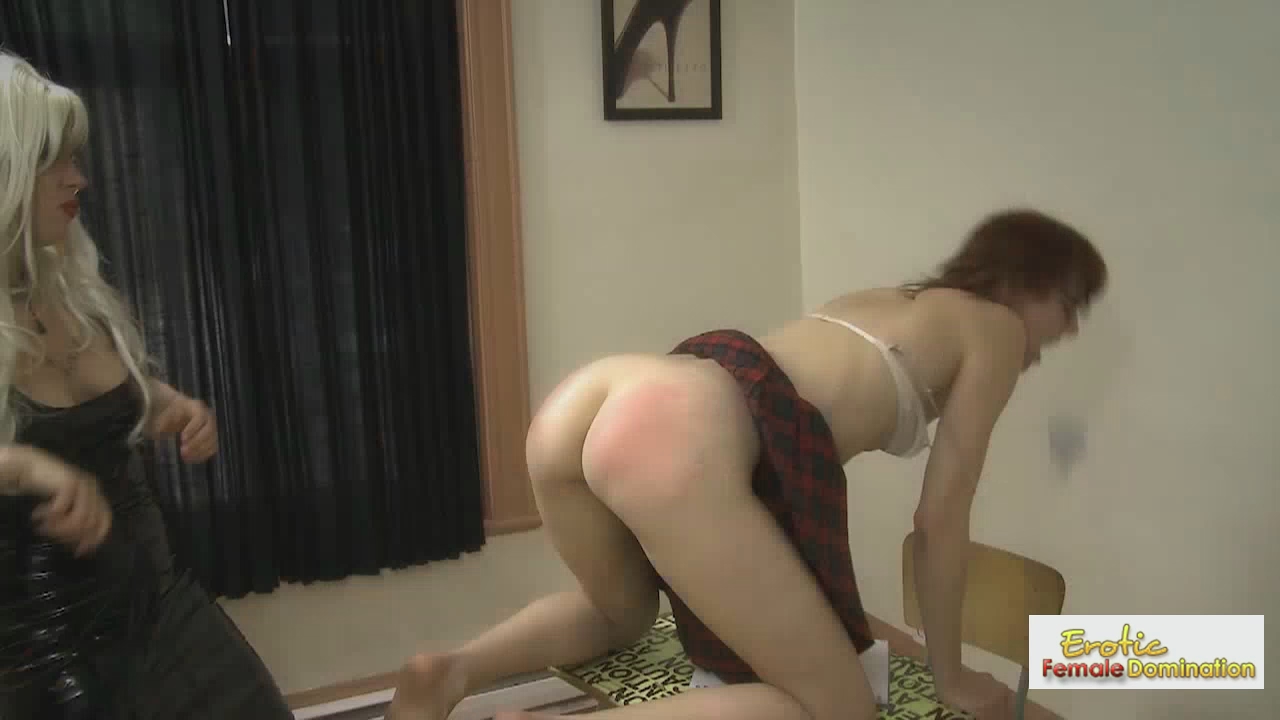 A studious girl has fantasized about her teacher all year, and finally her deepest desire has come true. Her blonde schoolteacher has become a cruel dominatrix, gagging the younger woman with her crumpled-up homework and spanking her ass. She clearly enjoys the sight of that sexy little booty, but not as much as she enjoys smacking it until it glows red. The spanked student gets up on her desk, on all fours to fully offer herself up to her sexy teacher. And after all the mean slapping and spanking of her ass, today's lesson concludes with Mistress using a thick dildo on her student's pussy. The cute redhead, plaid skirt hiked up, moans in pleasure and fucks herself back on the toy, hoping that every day of class can be like this from now on. But just as she's about to cum, her devious teacher pulls the toy away and leaves her desperate. The tip of the toy rubs between her pussy lips and slowly back inside to fuck her eagerly yet again. The needy student grips her desk, the pleasure overwhelming her… And this time, her Mistress lets her have what she wants. Her petite body twitches and shudders with the multiple orgasms that flood her senses, leaving her exhausted and giggly by the end. She'll have to work extra hard to finish her essay tonight after spending all that time being fucked like a slut.
Video length: 12:03 min.
Click Here to watch full video after registration!
Download video –  720p for PC or TV sets – Recommended download, best quality!
Download video – 270p format, for Mobile devices. – Choose this with slower internet connection too.