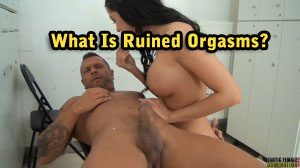 In BDSM and kink play, the concept of ruined orgasms, also known as erotic sexual denial, can play a central part in the relationship between a dominant and submissive individual. Note that unlike a lot of other BDSM and fetish practices, erotic sexual denial is primarily experienced by male submissives and subjected to them by female dominants. This is likely owing to the fact that ruining a male's orgasm is a lot easier than ruining a female's orgasm.
Ruined orgasms tie in closely to the meta concept of orgasm denial. The length and severity of the denied orgasm can vary from person to person: for instance, some mistresses may allow their slaves to orgasm once per day, whereas others will only be allowed to orgasm once per week. Denial can include a simple teasing of the individual with words all the way up to stimulation to the point of climax. Note that complete orgasm denial is sometimes misunderstood as being an element of erotic sexual denial – this is simply not true, and while bringing in the concept of total orgasm denial may be erotic, it is almost always practiced with at least some sexual gratification afforded to the submissive individual.
Ruined orgasms can be one way for a dominant party to allow their submissive to technically not be denied an orgasm, but be denied a good quality orgasm. A practice of edging may occur for a period of time before the ruined orgasm – this means a gradual buildup and reduction of sexual stimulation over the course of minutes or in some cases, hours. Edging can increase the intensity of the orgasm, but also the sense of frustration that goes with a ruined orgasm. Typically, an individual that has edged for a long time desires for lengthy genital stimulation during their time orgasming, which means that reduced stimulation during this period is particularly effective.
Ruined orgasms come about in many shapes and forms, with the most basic being a complete removal of stimulation at the highest point of climax. Given a scenario of a male submissive, he may be allowed to reach the point where he ejaculates, but as soon as he ejaculates, the pleasurable stimulation of his penis will be removed. In the case of a handjob, this will simply be removing the hand from the shaft of the penis, or otherwise ceasing to move it. More advanced forms of physical orgasm denial will include things such as applying pain during orgasm: grabbing onto the testicles is one such example of how this can be experienced.
Other forms of orgasm denial can be psychological in nature. A mistress could preamble sexual interaction with a lot of dirty talk, telling their submissive how great the orgasm is going to be and how they desire to have cum spurted all over their breasts, then at the point of the orgasm, they may move the penis away from their tits and have the submissive orgasm onto the floor instead. Other types of psychological denial would include being disgusted during the orgasm and telling the slave how disgusting, pathetic and weird they are. In reality, there is no steadfast rule on the ways in which orgasm denial should be experienced.
Note that erotic sexual denial should always be accompanied with periods of non-experience. This is because if a submissive is always anticipating the ruining of an orgasm, they may actually have a 'ruined ruined orgasm'. This may sound funny, but a ruined orgasm should ideally always be unexpected for full effect.