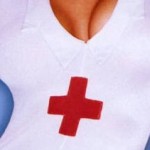 I wasn't feeling sick or anything, but my Mistress thought I should had a routine check out anyway. Don't get ahead of me, this is not a usual doctor's appointment where I go fix my booboo, this is something done by her, for her fun and my pleasure. If she would be a real doctor, I would feel "sick" all day long, so playing about this could only mean that I'll get some attention.
Perhaps I was feeling a little bit sick, waiting in this dark room on her bed, filled with her perfume and almost feeling the shape of her body on the mattress. It's the kind of sick that you feel when you expect something great, like receiving an award or a medal for your services. The kind of anxiety that makes you happy but unable to hold it in one place…
As I was imagining different scenarios, one thought popped into my head. Will she be dressed in white pants, with a white coat and a stethoscope around her neck or will she… Oh, I didn't get the chance to finish that question, the door opened and there she was. Couldn't see much, but the shades led me to believe that she's not wearing anything else than a somehow long white coat. Nothing else? Really? Is she trying to make me burst?
I felt a cold metal touching my body, on my belly to be exact. "Does this hurt?". Of course it didn't, it was just cold and it made me flinch. "No" I said, expecting her to put that cold stethoscope somewhere else. Instead, she pressed it harder, with confidence that this time I will say different. "How about now?"
Should I lie? Never… not to her. "Not really". She lifted the round head of the toy and started to slide it along my chest with the margin, making it feel like a coin. A good way would be if that "coin" would roll on my skin, but since this was not possible, I felt it like cutting. "Tell me when you want me to stop!". She was going down south with this, so I said to myself that I could bear for a few moments, letting her reach where I wanted her to reach. She stopped… and now she's going back up. Well, I guess this is not one of those days. "There… that's the spot!" I said, just when she was on my pecks. Something happened in that moment, something I wouldn't even dream about. She kissed the very spot where the stethoscope was a few milliseconds ago. "This should make it better…". Better? My manhood was pointing at the ceiling, my whole body was shivering, my breath was heavy and my head was pumping… better? How could she called this just "better"? Why didn't I react better actually? She saw how I was, leaned back and said "Wohoa, I think I just gave you an overdose". Now I felt that every bit of my skin should be in the pain that requests her medicine, but I can't say a word.
"I think you need something cold for your swollen part!". What swollen part…? Oh, that one. She brought a bag of ice from the kitchen and putted on my genitals. I wanted to scream, mostly because there was no warning. Yeah, sure, put out the fire with gasoline. She laughed when she saw the bag of ice pulsating and with no effect. "Oh, it must be heavier…" and she put her foot on the bag, pressing it harder and slowly moving it up and down. Now I could see her naked leg moving on me, allowing me to take a peak under that white coat which was not long enough to cover what it was meant to cover. Not that I could see much or even what I was hoping for, but it was enough to make that ice bag fall and her foot slide directly on my…
I think she's mad now, or at least she should be. I couldn't control myself and I've put both in an awkward situation. At least that's what I thought, but she hasn't stop from moving her foot. "Let's see how fast your heart can beat!". What? What does she mean by that? With one hand holding my wrist, she putted the stethoscope in her ears and pressed the cold end on my chest, listening to my heart beats. That thing wasn't long enough, so she had to lean over and touch my face with her soft hair. I could smell her sweet perfume but in the same time I could feel her leg rubbing me harder. In the silence I think she didn't even needed the stethoscope, I could hear my heart just like that. This is going to end well I though, I was so aroused and in the verge of an explosion. She must've figured that out, that's why she stopped and looked at me. "Are you going to do something foolish?" Who, me? The thought didn't even crossed my mind, but then again, my body wasn't listening to me anymore, it was under her command and I couldn't guess if I was or was not going to do something "foolish" as she said. "I don't know…". Just as she was standing there, leaned above me, the top button on her white coat popped and her cleavage just became more visible. Dark shades indeed, but enough to make my beats more intense. I was pushing her foot (which was still there) up again with my eyes stuck on her godly forged breasts and begging for an ending.
"You know, if I were a real doctor I would probably give you something to end your condition with no consequences". I chewed this sentence piece by piece, making millions of sceneries in my mind and none of them seemed to have a happy ending for me. But then again, I was wrong before, I could never know what she has in mind. Her leg started to move again, pressing more and sliding faster. She popped another button on her coat, looking deep in my eyes and waiting for something. "I'm… going… to do something… foolish… Mistress…" I said with a fade voice and a jerky breath, thinking she will stop. She didn't…