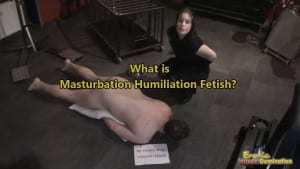 Masturbation humiliation is a form of erotic humiliation in which the submissive is taunted or shamed for masturbating. There are many ways in which a dominant can do this, picking on the submissive for their addiction or their fetishes or the size of their cock. This feeds into various BDSM kinks such as general humiliation, but is especially interesting since the submissive is typically being shamed for masturbation and yet encouraged to continue doing so by the dominant. That feeling of humiliation coupled with the coaxing to humiliate oneself even further is incredibly erotic, particularly to masochists. 
One of the more popular forms of masturbation humiliation is when a dominatrix laughs at a man while he's masturbating. She may go on about how ridiculous he looks with his cock in his hand, and a masochistic submissive who is into this fetish would only be turned on further by her words, providing further reasons to mock him. In some ways it is similar to Jack Off Instruction, which is when the dominant encourages and coaxes the submissive man to stroke his cock. However, rather than positive encouragement, masturbation humiliation involves negative encouragement with the knowledge that a masochist's shame at being taunted will only make him hornier. As a result, both of these methods are effective in their own way at encouraging a submissive to continue masturbating, often until the dominant gives them permission to cum. 
Masturbation humiliation can also easily tie into small penis humiliation. In addition to being mocked for their addiction, the submissive can be teased or insulted for the unimpressive size of their cock. This is especially effective in real life or over webcam, where the dominant is able to watch in disgust or disappointment. Of course, the point is still for them to continue. A dominant may, in fact, say that because of the submissive's small cock, masturbation is the best they can hope for. As long it doesn't conflict with any other rules they've been given, the submissive should masturbate to his heart's content, just with the knowledge that his dick doesn't measure up and deserves to be laughed at. 
This can also be part of a Mistress' scheme to make a submissive completely obsessed with her. She could order a slave to masturbate to her often, making him associate all of his sexual thoughts with her. Naturally, this could also lead to something like the previous ideas, with her making fun of him for the very act of stroking his cock or teasing him because he would never stand a chance with her. Whatever her technique, part of her goal would be to humiliate the slave for being so hopelessly addicted to her and knowing that all the teasing and mocking in the world won't stop him from feeding his new addiction. In fact, the deeper he goes, the meaner she can get because he'll find himself craving anything she has to offer even if it's simply more humiliation. 
While the kink can apply to many others, most of those who seek out masturbation humiliation are submissive men. Humiliation and Jack Off Instruction videos are offered by many dominant ladies who love to talk down to men and encourage their bad habits while at the same time mocking them for those same habits. The end result is kinky BDSM fun between consensual adults which allows both of them to indulge in a humiliation fetish over the masturbation that they both know the man will inevitably resort to. And while this kink does work well with recorded videos or live webcam play, it especially shines in real-life encounters where the dominant is within arm's reach and yet all the submissive can do is masturbate rather than have what he really wants.