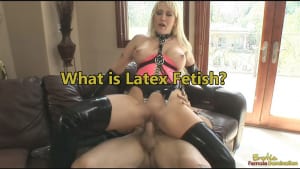 A latex fetish is an extreme attraction to the material of latex, to the point where it is a key part of one's sexual satisfaction. Of course, the degree varies from person to person. For some people, latex is sort of a bonus that makes things even sexier, whereas for others it can be impossible to be truly satisfied unless latex is involved in some way or another. 
The fetish for latex can be incorporated in more ways than one might initially think. The most common would have to be latex clothing, which has become a big part of the fetish scene. Pro dominatrixes in particular are commonly seen in latex or leather due to their sexualized nature and association with BDSM in particular. There are pro dommes and fetish models that specialize in wearing latex, commissioning beautiful and intricate dresses, bodysuits, and other outfits that are made entirely of the sleek and shiny material. Generally form-fitting, latex serves to show off the shape of the body while keeping it concealed, and offers a sort of otherworldly look due to its shine. 
Unsurprisingly, it is also commonly associated with science fiction themes. In some sci-fi movies and anime, characters such as pilots are depicted in latex-like uniforms that hug their bodies like a second skin. Aliens may also wear the material or be shown as having rubbery skin that emulates the appearance. This can be contrasted with how leather is a common, sexy material used in medieval/fantasy and wild-west fiction for its erotic nature.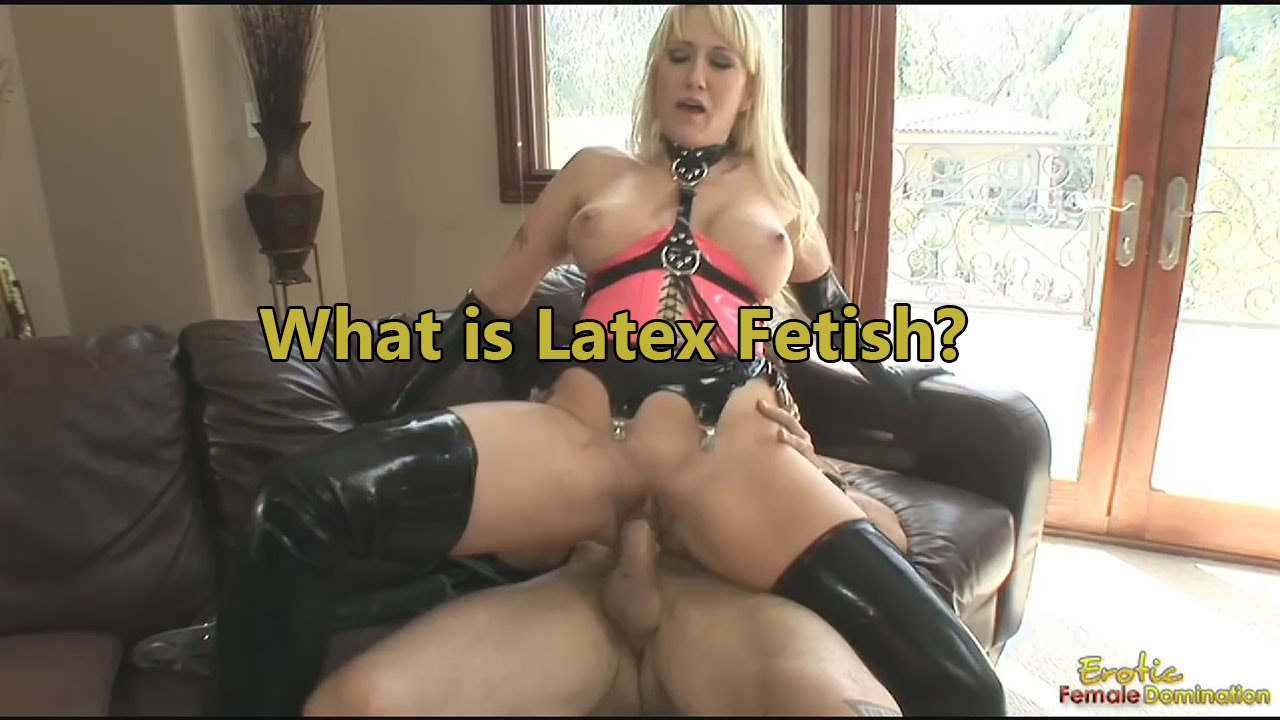 Latex clothing exists in many forms. Tube tops and skirts are cheap and common, while skin-tight dresses or full catsuits can become considerably more expensive depending on how elaborate they are. Latex stockings and full-length gloves are also commonly used as fetish gear. Stockings are often worn to accentuate the legs, and wearing ones made of latex will truly show off their shape due to how tight it is, their shininess also differing from that of nylon. They can also be shined further, the act tying in strongly with leg fetishes. With gloves, it can be difficult for a latex fetishist to think about anything other than receiving a handjob when eyeing them. 
Most condoms, of course, are also made of latex. Men probably don't think twice about the fact that they're wearing a latex "suit" over their cocks when they slip one on, but a man or woman with a fetish for it will definitely notice, and actually prefer when condoms are used even when they aren't necessary. Seeing a hard cock strain against the material, the way it looks beneath the sheer color of the condom, or how it shines when lubed up are all erotic sights to latex fetishists and make sex even better. 
Lastly, there are heavier latex fetishes that often involve full encasement. One of the more common types is similar to the leather "gimp suit", except made of full latex with a hood to cover the head. While it can be a part of many other fetishes, one in particular is the idea of essentially being turned into a featureless rubber doll, losing individuality and becoming little more than an object. Similarly, there are kinks involving vacuum beds. Imagine a sealed sleeping bag made of latex with the air sucked out. Much like the "gimp suit", it results in full encasement in the material, with everyone else seeing a human-shaped figure that seems to be made of pure latex. 
As you can see, there is a wide range of kinks involving this fetish, but it is pretty easy for beginners to explore. For those who have an attraction to the smooth, sleek, and shiny appearance of latex, they can buy simple bits of clothing for very cheap, either for them or their lover to wear. One's interest may begin and end there, or it could extend to diving deep into the world of latex and seeing all that it has to offer.