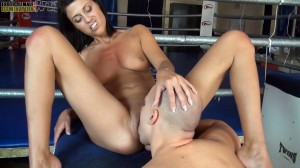 Q: Mistress Sweet Claudia, your videos have become very popular lately. Why do you think this is?
A: Well, me being a superior Goddess helps! (laughs) But I think many men are beginning to realize how much they like the idea of smothering and facesitting fetishes, as well as simply femdom in general. I really get into my sessions, and I think that shows in my videos.
Q: When did you get into smothering exactly?
A: I'd always enjoyed facesitting and 69 positions with guys, and always loved being on top. This was before I knew facesitting was a "thing", though. I did like looking down to see a guy buried between my thighs or beneath my ass, though I wasn't aware of what exactly it meant. It was years later when I actually discovered I was a domme, and that aside from the pleasure of a guy worshipping my ass or pussy, I also got off on the position of being the one in control.
Q: So you love power, then?
A: Oh yes! Power is one of the most important parts of BDSM. A domme should always have ways of exerting and flaunting her power, not only to establish control, but also because it's something that both parties enjoy. I get a huge thrill out of really taking control, sometimes having a guy's balls literally in my grip. Likewise, my slaves crave this sort of use. They don't just want some woman who will spread her legs and expect him to go down on her, and maybe some half-assed whipping. They want a woman who knows she's superior and who will absolutely remind him of this every chance she gets. Whether I'm degrading a slave, teasing him, smothering him, or busting his balls, he will know damn well that I hold all the power.
Q: Do you like smothering or ballbusting more?
A: Ballbusting is a lot of fun, especially if a guy has nice big balls that make such tempting targets. But facesitting and smothering are my passions, so they easily win out. Feeling a guy squirm beneath my ass while his cock stands hard and untouched is both extremely sexy and extremely amusing. And that's what I love from my slaves. I want them to please me and to amuse me, and I know how to ensure that I get both out of them.
Q: Would you recommend smothering to dommes and "vanilla" women both?
A: Of course! That much should be obvious. For a domme, it's a very useful (and enjoyable!) tool to really encourage your slave to properly worship them. Many of those "vanilla" women are probably like I was, and haven't yet realized the full extent of the kinks and fetishes they enjoy, so I always, always recommend experimentation. Even if the power and control bits aren't for them, facesitting can still be a very fun position to use when a guy is going down on them. It can also include a handjob at the same time to encourage him when he's doing a good job, or even a blowjob because a 69 position is always sexy.
Q: What are some kinks you would like to experiment with more, yourself?
A: Hmm… I haven't done much in the way of chastity training, and it could be fun to hold the key to some slave's chastity belt, being in total control of his orgasms. I haven't done much with strap-ons yet either, so I'm hoping to get some more of that in; the experiences I've had with them so far were great! I've also been mixing up my smothering techniques lately instead of focusing on my favorite, facesitting. Just smothering a guy between my thighs or against my breasts gets a lot of the same reactions from the slave and gives me that same thrill as I dominate them.
Q: I wish you luck with that! Will we be seeing some of those things as additional videos?
A: It's possible! I'd love to cover as many fetishes as possible, really, but I have to admit that I'll always have a soft spot for facesitting! Expect many more men to be dominated beneath my superior pussy and glorious ass.