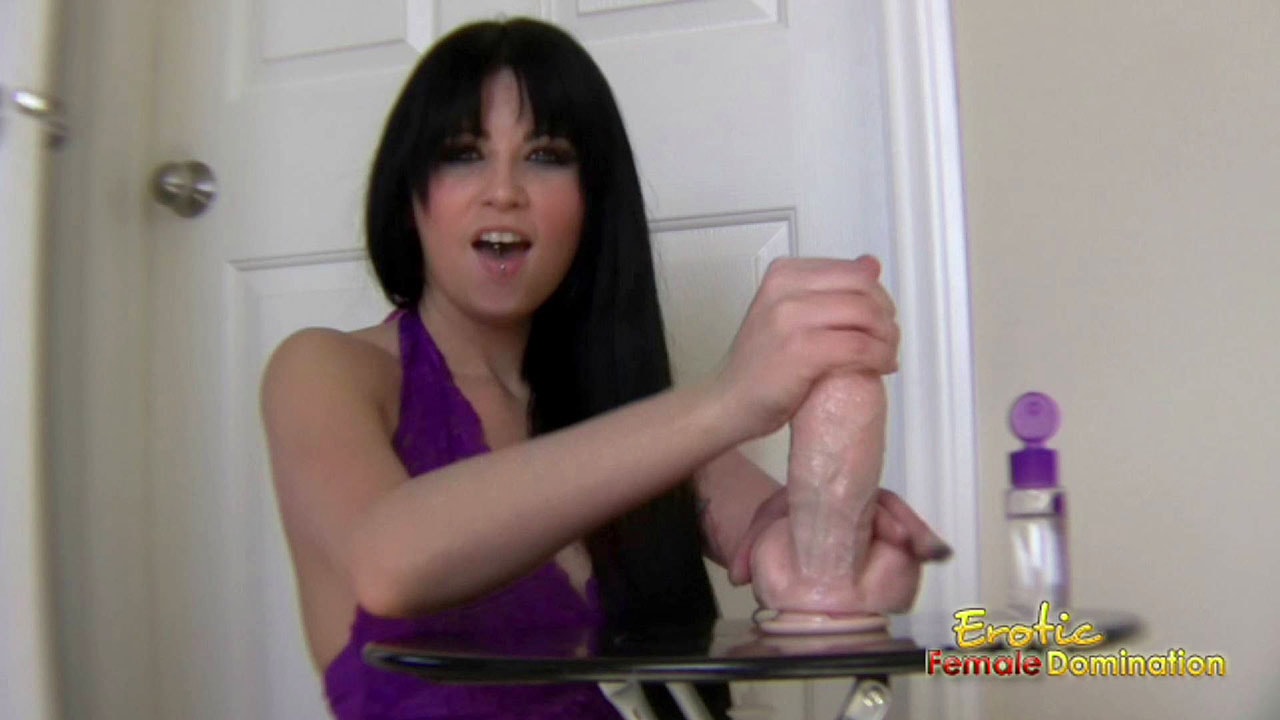 Hello, sissy faggots! Well, today, I have a special for you and it's called: Handjobs 101 with Chloe! Now, I know some of you are new to being faggot-ish and some of you just suck! But, I thought to give you a little advice on how to give a good handjob! First of all you need lube, lots and lots of lube, but if you don't have lube you can always just spit in your hand, like that! Make sure you get it all nice and wet. But for me, I lube so I need to get it all more wet! Oh, yeah! The more, the merrier! Then start off at the head and make sure you have a firm grip on that hard veiny cock because it wants you really bad. And for all you faggots, treat this cock like it was your own. I mean, don't do a half-ass job! You gotta make it cum all over yourself so, make sure your squeeze really tightly and go up and down. Up and down! Yeah, like that, stroking it nice and firm. Up and down! Up and down! Up and down, and then I like to do the swirl motion. Oh yeah! You know how that feels so good! Oh, yeah! You can practice on yourself if you like but, I mean, you are a faggot after all and you should have a partner so you can practice it on him instead. So, keep stroking it, there you go, like that! Nice and firm and then go to the head, and swirl around the head, oh yeah! I bet your faggot boyfriend is really loving you now, huh? There you go, keep stroking it! Don't forget about the balls! You can't forget about the balls… Do the two at one time, there you go! Oh, like that, a-ha! Oh, wow, very good! Then you gotta go faster! Faster like this! Yeah.. Oh, go faster and make sure he's wet. He's gotta stay wet the whole time so maybe you should just spit on it so you don't have to stop, like this… There you go, make sure it's really nice and wet. Then swirl at the top, swirl it. Swirl it, swirl it. Oh, yeah! I bet your partner's loving it right now! Oh! Make sure you've got a firm grip on that cock! Firm grip, faggot boy, come on now! You may act like a girl but, you're still a boy! Keep stroking it, keep stroking it! You wanna make it cum, don't you? You wanna make it cum and happy! Or keep stroking it because I know you wanna taste it. If you want to taste that cum then you gotta stroke it nice and good. Oh, yeah! Can you feel his dick getting harder? Can you feel that it is about to explode? It's not getting harder yet? Then you are doing a good job! Come on! Do what I'm doing! Watch and learn faggot! Come on… Balls too, you've got to rub the balls, not just once at a time. You've got to get both of them in there, there you go.. So much better. God, I wonder what you would have done if I would never show you this video? You would have been like, a useless faggot and nobody wants that. Now is the time that you have to make him cum, make him cum all over your face! Can you do that for me? I wanna see cum all over your face. Stroke it, come on! Stroke it good, stroke it hard! Oh, yeah! I wanna see that cum, I wanna see it! Oh, oh, oh, yeah! It's cumming! Oh, wow! Did you like that? Because I know he did! Now, you gotta keep on practicing because practice makes perfect! See ya later, sissy!
Video length: 5:29 min.
Click Here to watch full video after registration!
Download video –  1080p HD for PC or TV sets – Recommended download, best quality!
Download video – 270p format, for Mobile devices. – Choose this with slower internet connection too.