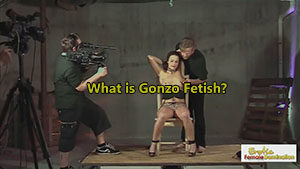 Gonzo fetish is a fetish for the "gonzo pornography" style, a popular filming method in which the cameraman is considered part of the action or meant to represent the viewer. It offers a sense of immersion that gives a type of enjoyment that differs from the more traditional cinematic style that focuses entirely on the porn stars. 
Gonzo fetish and the filming style really started to become popular in the 1990s, with pornographers experimenting with new perspectives. The films are scripted, but often portray situations as if they're "real". Unsurprisingly, this also falls in line with the rise of reality television. Some gonzo porn, for example, features a group of "average guys" as they flirt with women on the street or in night clubs, one of them filming their attempts. Naturally, they always seem to get lucky and wind up recording the acts. The one holding the camera won't always get involved in the scene, often just giving a viewer's perspective as if those watching the video are traveling with these lucky guys. 
The gonzo fetish also extends to point-of-view, or POV, porn. In these sort of videos, the one holding the camera is also one of the participants in the scene. Most of the time the perspective will be from the man, in a straight scene. As the videos are mostly marketed to men, this view lets men more easily imagine themselves in the porn star's shoes. This filming style can make it seem like you're really looking down at that sexy blonde while she's bobbing up and down your cock, adding some degree of immersion and interactivity that non-gonzo porn lacks. 
Modern camera phones make this possible even for amateur pornographers, while professionals are able to use higher-quality cameras with stabilizers. Either way, these methods bypass one of the biggest limitations to POV porn: the fact that quality cameras are extremely heavy. These days, amateurs and pros alike can film point-of-view porn without the resulting video looking terrible and giving viewers motion sickness. This has expanded the POV film industry in two major ways, popularizing the gonzo fetish like never before. 
For one, the rise of virtual reality allows for POV porn to be incredibly immersive. The viewer can now feel even more like they're in the position that the camera-person is in. 360 degree cameras mean that the viewer can even look around, adding an extra dimension to POV porn films that were previously stuck tracking whatever the camera was being pointed at. If there is a woman bouncing on the lap of a cameraman, the viewer can spend his attention focusing on her face or her bouncing chest or the penetration, and in whatever order he wants. While already a very impressive evolution of porn movies, it's just one step in taking the gonzo fetish further, with the eventual aim of fully simulated, virtual sex. 
In addition to this technology, camera phones and other lightweight video recorders have brought the gonzo fetish to amateur pornography in a huge way. Traditional and gonzo porn movies were already homemade in the past with home video recorders, and eventually webcams. Now, with most people owning a smart phone, it's become easy and convenient for amateurs to film their own porn, whether for private or shared purposes. And, of course, the phone easily lends itself to gonzo porn of all kinds. The camera holder could film and masturbate while watching others having sex. The camera holder could be either partner involved in the act, offering a variety of perspectives not limited to man, woman, dominant, and submissive. 
People with a gonzo fetish are truly spoiled these days, with major studios offering high quality and innovative gonzo porn, and smaller or amateur producers of all kinds making their videos easily available online and catering to a number of popular and niche fetishes. Whether you prefer the "reality porn" style, virtual reality porn, or point-of-view action of any kind, you're sure to find plenty of gonzo fetish clips to enjoy.