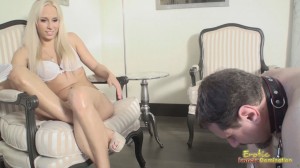 –          Hello Mistress. You look great today…
–          Stating the obvious, but thanks. You do realize that I hear compliments all day long and even if some are commanded, I still enjoy them.
–          I can imagine. So, what does a Mistress do?
–          There are 2 ways to learn this, I can teach you as a Slave or I can explain it to you as simple as I can so you can understand it better. Which way is it gonna be?
–          I think I want the second version… for now…
–          Ok then, if you are afraid, I understand… Basically, I don't do much because as a Mistress you don't have to know to do stuff, you just have to know how to make other people do those things for you. You know how a queen has her subjects obey her and execute every order? Pretty much like that but more orders are involved. I am no regular woman, I am a Mistress and my entire existence is supported by my slaves. I don't have to do anything and when I want to do something, there's always someone around to "help" me do that.
–          What is your favorite game?
–          Game? Do you think I play games? My whole purpose is to manage my slave's lives and that's not a game. Usually, that much power can make you drunk and bring weird thoughts into a person's mind, but only a good Mistress can draw the perfect line between controlling and abusing. So you see? Games are for kids, to have something to do and not get bored. This is something real and happening.
–          Ok then, what's the most fun you have in your activities?
–          As any woman, I have my needs, and I don't mean financial needs because those are all taken cared off and besides, I like to have experiences not objects. There's nothing more pleasant than to see how my slaves react when I put them in a difficult situation and there's no chance in hell they can say something about it. Humiliation is a part that suits me well. I have a 40 years old virgin Slave that spent a tremendous amount of time with his eyes stuck on my ass and I always let him thing that one day, something more will come to him. And just to press that thought in his head, I use my Bull for my sexual sessions, just to show him what he's missing.
–          But he'll never get in your panties…
–          I think you're a bit insolent! "Get in my panties"? You can use that phrase with your dumb girls, you will talk to me with respect otherwise you will ask your next questions from under my feet. And to answer your question, no, he'll never get what he wants.  Sometimes he gets really close, but that's just because I am a generous Mistress and I know how to keep my slave around.
–          What's your opinion about your Slave?
–          He's a good guy I think and he is really devoted to me. The fact that no matter what I put him through, he's still around like a puppy makes me think that this Slave is the jackpot. I'll never tell him that, of course. Still, I appreciate his devotion and the fact that he never complains about my treatment. It must be hard for him to see me getting fucked in his face, but more than that, it must be really hard when I get fucked on top of him. It's a twisted play of mine, having the Bull fuck me on top of him while he's tied up. You can say that I include him in this somehow.
–          And the Bull? What's his part?
–          He's kind of a douche to be honest. But he has a nice big cock which fits really well inside me and it makes me feel good. That, combined with the control I held over my Slave while I do it, it's a thrill that cannot be put in words.
–          Why do you say he's a douche?
–          Because he acts like he's such a macho and I'm all wet for him every time he's around. I think his brain has a few broken circuits, which is not bad actually since I can control him also but let him think that "it's all you baby". Still, sometimes I can barely hold myself to not put him down with a few kicks in his balls and watch him as he screams on the ground, just for the fun of it.
–          You do that to your Slave instead?
–          You know… I never thought of that…
–          You never kicked your Slave in the balls?
–          No, I mean I never thought of releasing that thought on my Slave. Was it hard for you to get my answer? Would you like to be my Bull? You have the brains for it…
–          Wait, no… I meant…
–          Relax, I'm just messing with you. You get scared like a little girl, you know that? Even my slave with his tiny dick and small balls has more… well, balls. But, back to the subject. I never thought to hit my Slave when the urge to hit the Bull came around. Perhaps it's because he's not to blame, and after all, after the Bull leaves, it's me and my Slave only. I know how to keep him around and even if he would enjoy pain because I tell him to, I don't see fit to make him pay for another man's lack of brain.
–          So, between these 2, your favorite is… which one?
–          I think it's more of a combination. If I could combine the Bull's body with the Slave's devotion and love to me, I think I'd have the perfect man… it's something to think about. But, for now I like to enjoy both of them.