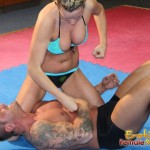 Roxy wants to play wrestling but her Slave had a bit too much of this and decided to hide under the box ring. Little he can hope as there is no escape and his Mistress is now furious. It's a nice twist for her, since the boxing ring gave her an idea. So you want to hide Slave? Poor choice… She puts him on the ground, starts smothering his face with her tight and gorgeous ass and with no warning, hard punches start flowing on the Slave's balls.
As he tries to get out of her grip, she starts punching him all over his stomach, keeping him down while he tries to hold the pain inside. Now it's time to get at her feet and start kissing and worship, behaving like an obedient Slave. She makes him lick her sweat from her entire body, as a sign of clear defeat.
Watch her mixed boxing video as well!