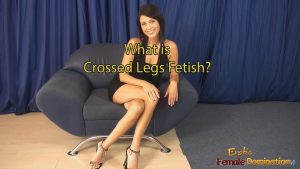 A crossed legs fetish is a subfetish of an infatuation with legs. Leg fetishes are one of the most popular among men, so it's hardly surprising that some would develop specific focuses on this interest. Some men, for example, might have a fetish for legwear, leg tattoos, or a particular part such as the thigh or calf. An interest in crossed legs is one based more on posture and presentation, with the man getting off on the sight of a woman with one leg crossed over the other, resulting in a very specific pose with all sorts of potential connotations.
Perhaps the most obvious interest in a crossed legs fetish is that this position serves to further accentuate the legs, much like wearing a pair of high heels might. If a woman is wearing a dress or skirt, the garment will often ride further up her thighs to bare more leg. When one leg is crossed over the other, the calf muscle of the crossed leg becomes more defined. There is a clear line that goes up along the calf, and that definition alone can drive some men absolutely wild, whether he's looking at bare skin or seeing this sight beneath a pair of stockings or pantyhose. For men with a leg fetish, a crossed leg fetish in particular could be seen as equivalent to something like how a push-up bra makes breasts appear perkier and with deeper cleavage, drawing even more attention from lustful eyes.
In addition to the clear visual cues that crossed legs have, there are also more subtle connotations that can go along with what seems like a simple act. Crossed legs are often viewed as a sign of feminine modesty and professionalism, making them associated with roles such as school-teacher, businesswoman, or psychiatrist. Not only are these roles professional, they are also to some degree positions of power or authority. So it shouldn't be any surprise that professional dominatrixes also adopt this pose in their sessions and their photoshoots to further radiate their power. Of course, these dominant women are also aware of the aforementioned leg focus; high heels, boots, legwear, and short skirts or dresses are also commonly associated with dominatrix attire for this very reason.
The modesty aspect also goes along with female domination. If a woman is wearing a skirt or dress, crossed legs prevent a kneeling submissive from peering up her clothing, showing off more of her legs but blocking her pussy from view or access of the unworthy man. It is meant to remind him of his place. Perhaps the most popular portrayal of this is that of actress Sharon Stone in the film "Basic Instinct". In this film, Stone's character is being interrogated by police and she adopts a confident cross-legged pose while facing them down, giving her the appearance of being cool and in control. Not to mention sexually intimidating in her tight, short dress and heels. As the male officers attempt to intimidate her, she casually uncrosses and re-crosses her legs, flashing them a view of her shaved pussy. This power play solidifies her control despite being outnumbered by a group of male officers, as this simple act distracts their attention and causes them to react with confusion or discomfort of the situation, all because they were drawn to the very feminine sight that was hidden behind her previously-crossed legs.
So, while crossed legs may seem like an awfully specific fetish to have, there's more than enough precedent to make them symbolic of many things while also simply appealing to those who already have general leg fetishes or affinities. Fortunately (and perhaps dangerously) for submissive men, this is also one of the many fetishes that pro dommes are well-aware of, and a regular part of their repertoire of control.