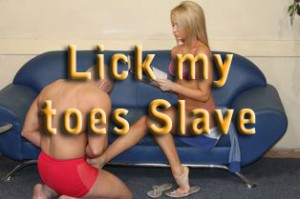 You know those moments when you dream something is following you and you have to run but you can't? Or the moments you hang on from something but you feel that the power in your hands is slowly fading away and you can't hold on anymore? Today I'm in those positions, only slightly different. The feeling is the same though…
After countless minutes of whip lashes on my bare ass, my angry Mistress takes a few seconds to walk around and I can clearly see the wheels turning in her head. I don't know what came over her but as I'm tied up to this chair backwards, I can't make a sound to make the matter worse. Clearly something upset her and all her anger is now flowing in punishment over me…
–          What are you looking at? – she screams at me while my eyes are fixed  in a blind spot, along with my mind that flows into an abyss of  mixed thoughts.
–          I'm not looking at anything…
Breathing hard, she keeps walking around, perhaps to let me rest for a bit or just to come up with something that will make her anger go away faster – meaning that it will throw me in an ocean of pain once again. The sound of her heels knocking the floor make me twitch with each step and I'm trying really hard to determine if she comes closer to me, each time when she's behind.
With a swift move, she throws me on the ground, still tied up to the chair. The hard wood snaps my muscles and makes me growl a bit. She doesn't like that and I know it because she kicks me hard with the tip of her shoes right in one of my butt cheeks. I curse the day I bought those for her…
She puts her feet around my neck and starts squeezing, as she looks deep into my eyes with a fierce and way passed of anger look. I feel the air leaving my body and having no way to come back in, as her grip gets more powerful with each second. As this is not enough, she offers me a few more swift lashes with a power that I didn't know she has. There's a good mix of pain now coming up my body from the red lines that the whip leaves behind and the struggle of my lungs trying to grasp a thread of air.
–          Lick my toes Slave! Lick them right now!
I try to reach them with my tongue but the grip is too strong. She lets me go a bit, perhaps realizing that I can't do much without some freedom on my neck. I still can't reach and every time I pull my tongue back in my mouth, a harsh whip spank reminds me that I have to try again.
–          What part of "lick my toes" you don't get Slave?
Maybe the part where I can see the toes but it's impossible for me to reach them… but that remark will probably cost me more than I can bare… so I try again, harder, leaving aside any wish for air.
–          This is not working… – clearly
She unties me from the chair, sits on the bed and makes me walk in my fours like a dog to her. Lifting a leg close to my face but with the same stare that makes my soul crawl in the darkest corner of my heart and tremble like a twig, says again
–          Lick my toes… suck them…
This time I know I can. I put her toes in my mouth and suck on them like it's my first lollipop and the taste just conquered my tongue and won't let go. Every bit of her body is sacred to me and there is nothing in my life that makes me happier than the moments when I get to enjoy touching her. Perhaps this is my reward for the pain I endured a few minutes ago. Perhaps…  As I dare look her in the eyes, I see that there is more to come, as she pulls her foot fast from my mouth, takes it away and brings it back in a fast kick that moves my jaw along with my head and shatters me on the floor.
–          Uh… this is interesting… let's see how many of these you can take…