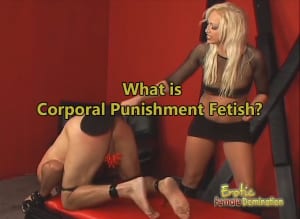 Corporal punishment fetish is primarily a BDSM kink in which some degree of physical pain is used to punish a submissive partner. People with this fetish, naturally, may be dominant or submissive, each getting something different out of it. For the dominant, it might satisfy their sadistic urges to inflict this sort of pain, or they may be turned on by the power of punishing someone. Likewise, a submissive who enjoys corporal punishment is probably masochistic, excited by the pain and understanding that they need to be punished by someone they view as superior. 
For most people, a corporal punishment fetish is limited to erotic spanking. An age-old punishment, spanking is the delivering of firm slaps to the buttocks, painful and humiliating but (if done responsibly) ultimately harmless. This may stem from one's youth or other experiences, but not everyone with a corporal punishment fetish has a history of receiving spankings or other punishments. Spanking is very common among people with other fetishes as well, such as ageplay where the dominant takes on the role of a maternal or paternal figure. It may also be included in roleplay such as teacher/student, in which case the dominant may use an implement such as a paddle or ruler to deliver the punishment. In the former example, over-the-knee spanking is commonly used to humble the submissive while in the latter, the roleplaying often involves the submissive bending over a desk to receive their punishment. 
Paddles and rulers were common spanking tools when such punishment was allowed in schools, but corporal punishment fetishes aren't strictly tied to spanking. Those at least passingly familiar with BDSM know that whips and riding crops are iconic punishment tools that are part of many Masters' and Mistresses' repertoire. Spanking will generally leave one's bottom glowing a shade of red, perhaps bruising if done especially rough or prolonged, but something like a whip can not only be considerably more painful but also leave longer-lasting marks behind.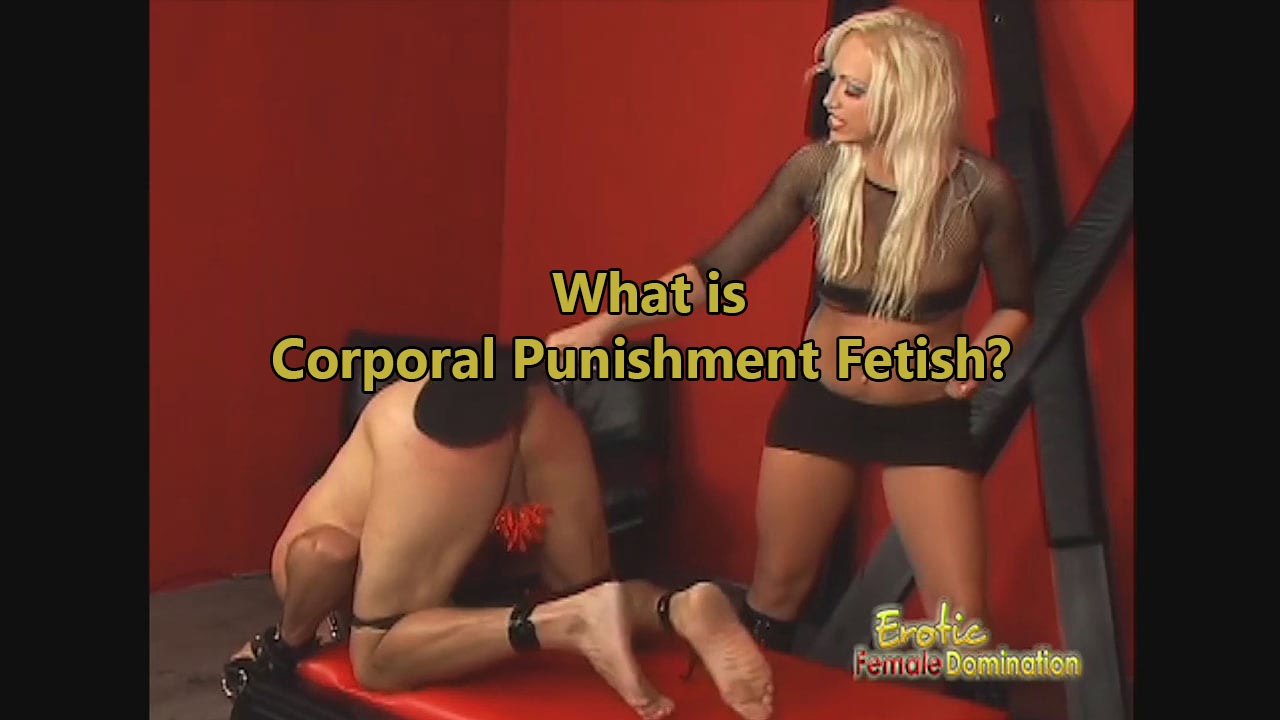 Whips and crops are flexible leather tools that are well-suited to striking and causing pain. Bullwhips were commonly used for punishment, sometimes to discipline a criminal in lieu of imprisonment or harsher penalties like death, and sometimes out of simple cruelty to keep slaves in line. In BDSM, the use of a whip is consensual between both partners, with the dominant ideally trained in their use. Used recklessly, something like a bullwhip can inflict serious lacerations and leave permanent scars, but with restraint it can be a fun and intimidating form of punishment that inflicts a sharp pain and leaves a telltale welt behind on the skin. Other whips include the cat o' nine tails, which has multiple whips attached to a short handle, while a flogger is a bundle of flat leather straps that serves much the same purpose. Both of them spread out the pain, with the cat delivering the sharpness of a whip and the flogger inflicting more of a series of dull slaps. 
Caning is another form of corporal punishment fetish, sort of a cross between spanking and whipping. Generally, a thin rattan cane is used to spank the behind, causing a different degree of pain than something broad and flat like a hand or paddle. Much like a whip, a cane will be more sharp and painful while also leaving behind welts if done hard enough. 
Corporal punishment fetish has a broad appeal and doesn't require as much gear as some BDSM kinks. A couple who is eager to try this out may start with spanking, and may even be fully satisfied with the humbling and humiliation that comes with it. Those who are more sadistic or masochistic can experiment with the incredible variety of whips, paddles, and floggers available at any BDSM and fetish shop. Many BDSM clubs also host educational sessions in which professional Masters and Mistresses teach how to effectively and responsibly bring a corporal punishment fetish into the bedroom (or dungeon) without causing unwanted harm.