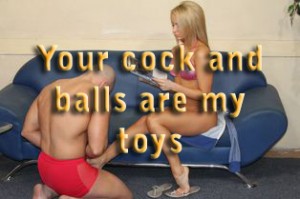 Every friend I have tells me that a good shopping session is good for my mind and it will make me feel a lot better when I'm down. I tend to think it's only partially true, since I can't shop forever and after all, there's not much space left in my shoe closet. I think it's time to do a cleanup and see what I should keep and what I should throw away.
How can I decide that? Hm… I think I'll use my dear Slave for this. It should be more fun than any shopping spree… but how should I do this? Oh, I know. I always enjoy a little cock and balls torture with him and I don't really care if he doesn't. After all, he must serve my needs and this particular one represents more human touch for him than anything else.
After 10 minutes he's at my place, I don't get how he can travel so fast but every time I call him, he moves mountains out of place just to get here faster. It's sweet… it almost makes me feel bad for what I'm about to do to him. Not as bad to not do it though…
–          I am here Mistress
–          Thank you Captain Obvious… now strip those clothes off, your opinion is much needed
All my shoes are aligned nicely on my bedroom floor and he looks at them with a dumb face, unable to make a connection.
–          Stand straight and spread your legs a bit…
I can see that he's already afraid and it's clear that I must take his mind of what's about to come. I go to him and gently grab his balls, rubbing them and waiting for his cock to rise and start throbbing. "I want you to be as excited as I am for this" I whisper in his year. I can count his heart beats, they are so loud… but he's enjoying this too much. I put a strong grip on the balls until a whimper comes out of him. "Hey hey, don't get ahead of me". I smile, just to give him a bit of confidence, but still hold the grip and even make it tighter.
–          Now Slave, you'll help me chose what shoes to keep
He can barely see straight now but he's still erect. I put a nice pair with short heels on and ask him what he thinks. "They are nice Mistress". Oh, what does he know? Let's test them out… I approach him and with a fast move I kick his balls as hard as I can, so hard that he's in his knees now, searching for air. Uh, these are definitely worth keeping. Haven't lost any balance, my slave is on his knees… good shoes.
–          Get up slave, we just started.
As he gets up, I can see that his erection starts to fade away and I don't want this. I also don't want to waste any time by making it appear each time and by know he knows what follows.
–          You do not want to please your Mistress?
–          I do Mistress… I do…
He's trying his best to bring the erection back but he can't. I know what I have to do! I slowly start getting my clothes off very close to him. Actually I'm so close that my skin touches him a bit and I can already see the effect. As I'm only in my bra and panties now, the effect is absolute, his cock is punching the air up, hard as a rock. This is definitely the way to go… let's try the next pairs, but not on me.
I like light pair of shoes, so I start measuring their weight by hanging them to his manhood. One pair… two pairs… oh, he can do this. I reach 5 pairs now and I can see that they start going down. I grab his balls again and start yelling "keep them up Slave!". As he flexes and tries hard, I put two more pairs. "Is this too heavy for you?". I ask this with my face so close to his cock while I am on my knees that he's going up again. So maybe I can keep these shoes, but so far I don't have too much fun. And his manhood looks so nice that it would be a shame to let go to waste as a scale for my shoes. I must think of something more interesting to do…
I push him to the wall, take all the shoes away and turn around so he can take a good look at me and my ass (which I know he simply adores). I slowly take off my panties, again, very close to him. I feel a touch on my butt cheek, pulsating, I know what that is. Backing up slowly, still bent over, I hear him breathing erratic and trembling. Oh yea, this is fun. Right now I'm moving towards him so slowly that I know it's a torment. It takes almost 2 minutes until his cock touches the wet opening of my pleasure zone and he's almost moaning behind me. I reach under and grab his balls again, they are really hard but with a soft touch. I pull them hard forward, so hard that he enters in me with all his weight, making me moan loud. He must be feeling pretty good right now. I push him back to the wall with my body but I can't allow too much fun for him. As I slowly move back and forth, looking down I can see his balls hanging there, waiting for something. Since all the shoes are on the floor, I have an idea… what if I test the strength of their base? I continue the moves for a bit, after all, this is pleasuring me intently.
–          Yes… Mistress – says with a hoarse voice.
Right in that moment I grab a shoe from the heel and with every bit of strength that my arm can produce, I slap his balls from under him so hard that I feel his cock in me like a hammer… a hammer that brings so much pleasure. Oh, so this is the game… and look, I only have about 20 pairs of shoes to try on…