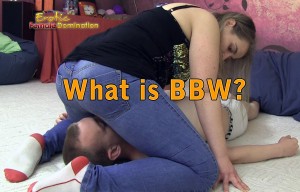 BBWs (or big beautiful women), are oversized women that are often desired by men for their physical appearance and weight. It should be noted that a BBW is not simply an overweight woman, but one that is severely outside the standard range. For this reason, curvy women are not BBWs and should not be described as such. Big beautiful woman will often reach a weight of at least 100 kgs (220 lbs) before being considered worthy of the title. They are often associated with arousal that falls under the fat fetishism umbrella term.
The phrase 'big beautiful woman' and the resulting initialism were coined in 1979 as a result of a magazine titled 'BBW Magazine'. It was launched by Carole Shaw and focused on fashion, cooking, health and other contemporary lifestyle articles geared toward the larger lady. In recent years, the initialism has been used by fat females in order to describe themselves, most likely as a result of the fact that other terms such as 'plus sized' and 'rubenesque' may have had negative stereotypes associated with them. BBW is seen as a fat-positive phrase that is not regularly used in an insulting fashion.
Other terms have been produced as a result of the BBW craze, including BBBW (big beautiful black woman), SSBBW (super-size big beautiful woman) and BHM (big handsome man). The latter is also often used by the gay community, who also categorize people that fetishize BHMs as being chubby chasers. 'Chubby chasing' may also be used to describe the pursuit of big beautiful women.
The recent increase in demand for fat acceptance has developed a second wave of admiration for BBWs. Many people argue that it is possible to be a healthy BBW, although the available scientific evidence and peer-reviewed literature suggests that there are many issues related to the general health of big beautiful women. Note that this is in no way a commentary on what people should do with their bodies: merely a reflection of the fact that current medical consensus agrees women who fall into the category of BBWs are more susceptible to ailments and health issues when compared to standard sized women.
Feeding is a sub-category of the BBW fetish and involves the activity of someone feeding a BBW while having sex with them. This can also be described as 'stuffing', although this word is also used to describe women of any size that consume a very large amount of food in one sitting. Feeders will often buy a large quantity of food that is incorporated into the sexual activities: pizzas, cakes and other high-calorie items are preferred over foodstuffs such as salad and fruit, owing to the implication of putting on even more weight with the former.