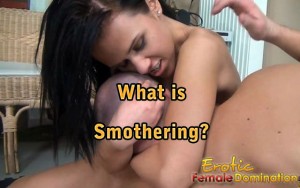 Smothering is a femdom method that has been around for a long time but rarely gets the attention it deserves. It generally mixes facesitting with breath-play, giving it a dangerous edge that only adds to the appeal for many. Of course, a good dominatrix knows how to perform smothering in a safe manner without actually putting her slave at risk, but the experience still has a rush of danger even when you know that you're totally safe, much like skydiving or bungee jumping. Only sexier.
The most common and instantly thought of form of smothering is the kind that branches off of facesitting. Facesitting is exactly what it sounds like: the Mistress lowering her ass and/or pussy onto her slave's face. This can be done to encourage oral worship or simply as a form of objectification, using her slave as a piece of furniture. Whichever method she apples, it's sure to be humiliating and meant to teach the slave his place. Smothering adds a twist in that it's sort of a more hardcore version of facesitting. With this, the Mistress will lower herself down more firmly, putting more of her weight on his face and cutting off his airflow for a few moments before pulling away so he can gasp for breath.
Pussy smothering has obvious appeal to both parties, with the Mistress trying to press herself right down against her slave's mouth and nose. This really emphasize just how superior the pussy and women are, since the slave will associate that with the danger of being smothered. Being mashed beneath that hot, wet pussy makes him extremely vulnerable, and a vulnerable slave is an obedient slave. Something like this could go on for long periods of time, or perhaps the slave is told quite simply that the Mistress will stop when she's orgasmed, perhaps even multiple times. It's up to him, then, to try his best to lick her superior pussy while dizzy and disoriented from being smothered beneath it over and over again.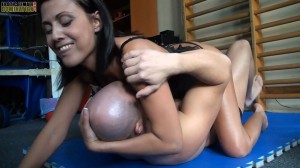 Ass smothering works very much the same way, and can also include oral worship just as pussy smothering does. One added bonus, however, is that this version is much easier to implement. It's easy to really bury a slave's face between your ass cheeks, not to mention that it's even more humiliating than the alternative. He'll really struggle to breathe, so it's important to lift up often, giving him just enough time to refill his lungs before giving him a faceful of dominant ass once again until he's a squirming, whimpering mess.
There are many other forms too, though. Pussy smothering, for example, doesn't always have to be facesitting. You could wrap your legs around a slave's head and squeeze him between your thighs, forming a better seal than you can through sitting on his face. And with ass smothering, you could have him kneeling with his back to the wall. You'd then be able to sandwich him between the wall and your ass while you remain standing.
Breast smothering is also very much possible, even if you have a smaller chest, although those with larger busts will find it easier. By and large, men are obsessed with tits, so breast smothering is a fun and hilarious way to give them exactly what they want while also making it a form of punishment. Many guys can't see how breasts could be anything but pleasurable, but when you have a slave's face shoved between your tits, holding him there firmly and making it difficult for him to breathe, he'll soon understand. While men tend to think about squeezing, sucking, or sliding their cock between your breasts, this act is far less pleasurable to them (although many can certainly get off from such abuse, of course!). Still, it encourages submission far more than the other breast-centric options since he's no longer the one in control. Instead you get to bury him between your superior tits and smother him for as long as you desire, making him respect them as a part of female dominance rather than as toys for him to enjoy.
I encourage all aspiring dommes out there to include smothering play in sessions with their submissives. As always, watch videos and read up on the act before going overboard, since it does generally involve breath-play. Performed safely, though, it can be an adrenaline rush for the slave rather than an actual risk, not to mention a ton of dominating fun for you!