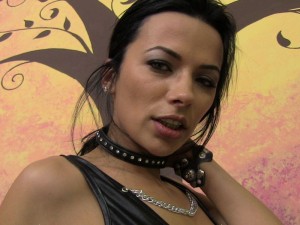 Q: Mistress Shalina Devine, how would you best describe yourself?
A: Um… versatile, I guess? Those who know me also know that I'll try just about anything.
Q: I've heard that you are a "Switch", is this correct?
A: Very much so, yes. I enjoy both sides of domination and submission, and even combining the two can be fun sometimes! There are many men who have cuckolding fetishes and similar kinks, and my experience really lets me use that to my advantage. For example, while I am dominating a guy, sometimes I will taunt him and tell him how pathetic he is while he worships my superior body. But I'll also sometimes tell my slaves about the many lovers I have had, and some of the things I have let them do to me, things that I obviously won't let my slaves do.
Q: So you like to flaunt the fact that you are a Switch.
A: It is fun to present myself to them as both. I think for those guys that really enjoy being humiliated, they like to hear me talk about how they do not measure up to the men and even women that I willingly submit to. To know that there is a possibility that they could be in control of me, but that I don't find them nearly worthy enough for that privilege. Depending on the slave, I can expand on that too. One of my favorites is to tell a guy that if his cock were 3 or 4 inches longer, I would let him do unspeakable things to me. But as things stand, the best he can hope for is to spend his precious time with his face beneath my ass.
Q: Surely that's not a terrible fate. Guys seem to line up for the chance at experiencing facesitting from you and worshiping your ass.
A: Many say that it is my best feature. (giggles) I guess I can agree with that. I am a small woman, 5'3″ and just under 100 lbs, but my ass is pretty round, so it looks even bigger in comparison. Dominating tall or muscular guys is a lot of fun too, because I like the contrast. It is very fun to dominate a man more than twice my size! Facesitting is probably my favorite method too. Not only do I love LOVE having my ass worshiped, there's also a very real thrill that comes from feeling a man writhing beneath it while I smother him.
Q: Any other fetishes you particularly enjoy?
A: Clothing! It pleases me to know how many men have clothing fetishes, because it gives me all the more reason to wear some of the things I really enjoy. Latex and leather are unbelievably sexy, and I have a closet full of shoes and boots. Sneakers, pumps, platform heels, knee-high boots, I have pretty much everything and lots of it, and sometimes I'll let a good slave pick out what I wear for a session. It is almost a torture in itself, because then I look that much sexier to him while he knows he can never truly have me. It might be a bit evil, but I find that so hot. I guess that is also the point, though!
Q: You sound like you enjoy being a tease.
A: You have no idea. One of my favorite parts of a session is the look on the guy's face when it's over, knowing how badly he is aching to cum. I can just imagine his balls throbbing in his pants, and sometimes I will forbid a slave from masturbating until the next session, where I will decide whether he can jack off at home afterward or if he will have to wait even longer! But even lighter teasing is lots of fun, just knowing that my body, my clothing, or my facial expressions can make a man hopelessly horny.
Q: Lastly, what facesitting position is your favorite?
A: Oh… That is actually a difficult question. I would have to say it is best when facing the slave. I can look down at him while the rest of his face is buried beneath my pussy or my ass, and sometimes he can get a peek at my breasts and my hard nipples, which only frustrates him further. And, of course, that is always fun!