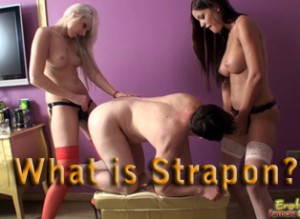 A strapon, or a strapon dildo, strap-on or dildo harness is an instrument used by women for purposes of simulating a penis.  Strapons are generally used in femdom as a form of pegging males, although you might also find strapons in lezdom videos where a female dominatrix wishes to use the device to penetrate a female. There are a number of different types of strapons that vary in complexity and usage – some can be relatively inexpensive, whereas others are very advanced and costly devices.
A standard strapon will feature an attachment to the waist, usually by way of an adjustable harness, with a dildo attached to the front pelvic region. More advanced strapons can have a different shaped penis, vibrating elements and a section that also stimulates the wearer's clitoris during sexual intercourse. Strapons can be used for both anal and vaginal intercourse, although owing to the fact that most of the receivers in female domination settings are male, penetration of the male's anus is most likely.
Pegging is a word that is synonymous with strapon dildos. The word refers to the activity where a woman uses the strapon to penetrate a male. Pegging relies heavily on the concept of a power exchange, whereby the mistress is positioned behind the male and uses the strapon in a position of domination. Pegging usually requires the male to be very submissive – this may include him keeping his head down, whining, begging for it to stop or wincing and feeling generally uncomfortable as he is fucked by the dominatrix.
Pegging is usually very enjoyable for men because although there exists an element of discomfort with the penetration, the male anal passage has an easily stimulated prostate, which acts similarly to the female G-spot. Most strapons have the capability of stimulating this spot and thus, the pleasure derived from the constant, repetitive impact on the region results in much pleasure.
It is generally advised that any strapon usage be accompanied with an appropriate level of lubrication and build up. If you plan to be pegged yourself, always consider the fact that your anal passage is a very sensitive and potentially problematic area. It is best to gradually build up to strong power exchanges where you are on the receiving end of a dominatrix that wishes to violate you. As with any sexual practice, being as safe and sensible as possible is the best ticket to success. Strapon activities are some of the most rewarding you can engage in, although it must be undertaken with the express knowledge that doing it in an environment that is going to make it a sustainable, prolonged activity that is free of risk is the best course of action.
Here is a short story relating to strapons:
Hello there. I heard you've been a very naughty boy – maybe it's about time you got taught a lesson by someone that knows how to keep people like you in check. I don't know if you've ever been on the receiving end of female domination before, but I'm going to introduce you to my long black friend called 'Strappy', he's really excited to meet you. How about you bend over for me?
Look at that ass! I cannot wait to violate you with this strapon. You are going to feel so submissive and completely in control when I enter you. Let me lube this up and give you a little preparation with my fingers. When I finally decide that you are ready to receive my strapon, you will keep your mouth closed and tell me how much you enjoy it. As a slave to my femdom fantasies, you must listen closely and do exactly as I say at all times.