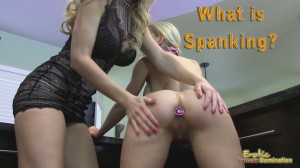 Spanking would be considered by many within the BDSM movement to be one of the most accessible and 'vanilla' activities within the subset of dominant and submission power dynamic scenarios. In its most basic form, spanking involves the dominant individual using their hand or another object for the purposes of repeated, hard contact with the submissive's buttocks. It can be light, hand contact through clothing or rigorous, object-induced punishment delivered to a bare behind. The simple nature of spanking has allowed it to become something of a vanilla sex act in and of itself, with non-BDSM couples often using it during their sexual experiences.
While hands are the most convenient tool for spanking, canes, whips, paddles and practically any object with a reasonable ability to be swung can also be utilized. There are both disadvantages – such as a lack of control and targeting – as well as advantages – such as a smaller contact area and thus, increased pain – that come with using hands over tools, although a combination of both may be used in scenarios to maximize their mutual benefits.
Spanking potentially utilizes a number of fetishes through its practice and sexual enjoyment. One such example is the concept of ageplay, where the individual being spanked may wish to roleplay as if they are a child being punished for acting against their parent's wishes. At the core of every spanking experience is the desire to feel pain. Erotic spanking is typically done on the buttocks because of the large surface area and lack of vital organs within its local region that could be damaged as a result of strike missing its target.
Spanking typically takes place with the receiver being bent over, maximizing the available area for contact to be made. Some dominant individuals may wish for their submissive to be positioned over their knee, although most will opt for the receiver to be independent so they can move around as they please. Some pieces of furniture have been custom-made for the fetish community with objects such as a spanking bench being utilized for their ability to assist with a spanking scenario.
Spanking can be an enjoyable activity for both parties and one that can be practiced with relative safety without the need for external tools or objects. It is often considered to be the easiest form of BDSM to become interested in and a common stepping stone for otherwise vanilla couples to delve into the world of pain for erotic pleasure. Spanking can be fun, simple and practiced with little knowledge. It's a historic activity that now lends itself toward erotic fulfillment and BDSM experiences.