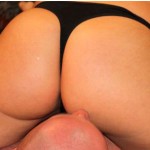 I wouldn't know where to start, there is a storm of desires breaking my mind and each and everyone tries to command my body before I can even react. I'm sitting at the end of the bed, watching my mistress in the reflection of the TV, carefully brushing her long brown hair while whispering some unknown song. Today I was supposed to help her get ready for some meeting, but since she wasn't going to get out until later tonight, she thought we can have some time for us… and by that she meant me taking care of her needs. Always happy to do that Mistress, always happy…
 My part didn't start yet, so I was made somehow to sit there with my back on her, listening to her melodious voice while she was doing something. Couldn't really tell what, I couldn't concentrate to see more than my eyes wanted to see. The sound of the brush sliding through her hair, her shapes mirroring in the shiny surface of that unfairly poor reflecting piece of technology, the thought of me just sitting and shivering with anticipation… It was like I felt a few years ago,  staying in the park, waiting for the Ice Cream truck to show up, with money in my small hands and an urge to stick my tongue in that icy sweet cream.
She finished brushing, tied her hair in a tail and I could see her godly breasts bouncing up when she lifted her arms and her flat stomach tensing along. Butterflies in my stomach? What am I, a nerd with his first girl encounter? With her, I felt just like that actually, unable to resist, unable to control myself and always eager to receive her orders with my arms open.
Leaning her long legs towards me, she asked me to do her nails. I jumped as if I was on a fire and started to carefully caress her toes, one by one, as if they were pieces of the finest gold but so fragile that they would break if not treated right. My lips were very close to them, I was ready to put them in my mouth and suck them like a lollipop, but since she said nothing about this I had to restraint myself. Very hard to do!
"It's ok, you can kiss them…"
Christmas, my birthday and both my graduation parties in a single sentence. You know that feeling you have when you're about to unwrap your gifts or hold the hand of a beautiful girl for a whole night? That was what I felt in that moment, multiplied a few times. I put my tongue on each toe, slowly, thinking that I don't want to waste these moments and who knows when I'll have this chance again. With the tail of my eye I could see her smiling and biting her lips, which made me push my mouth harder. A small moan came out of her mouth and I lifted my head to look at her… "You didn't hear anything!". Sure I did, but I was going to keep that for me and hold it as I hold all my memories with her. We both know that what we have must stay in what we are, otherwise this won't work.
"I want you to massage my legs…"
Trembling even more, I spread some cream on my hands and slowly started to rub her soft skin, going upper and upper with each touch. No restriction? I must be very good at this… When I reached just a little above her knee, she slapped me gentile on my wrist, a sign that I went too far. Ok, so I have a border which I must not cross, but it's so hard not too and I can barely do anything else right besides thinking of that.
"If I like it, I might let you do more" she said, looking at me with a straight face and letting me decide what I must do to please her more so I can be granted the right to do more. So, with no waiting I begun to put a shame on every professional masseur out there, making her skin raise goose bumps. I don't know what got into me, I just felt that this is the way of reaching for a higher stage.
"Ok, now I want you to massage my back!"