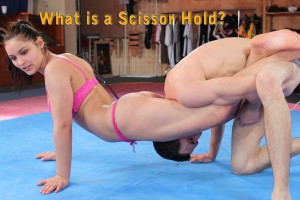 Scissor holds are a large category of pins in wrestling that are typically unused but popular among those that enjoy the sexually submissive element of grappling. The basic scissor hold involves the dominant party using his or her legs and wrapping them around a part of the other person's body (typically the head) and squeezing. The squeezing itself can produce a sexual response on behalf of the receiver through feeling of helplessness, admiration or strength and complete submission toward the scissor holder.
While it's possible for both men and women to enjoy scissor holds, it is typically the case that men are on the receiving end of them, owing to the higher levels of submissive men within the BDSM movement. Most scenes and scenarios that are practiced by individuals will have a female that engages in the domination, although as is the case with the receiver, there is no reason that the submission can't be administered by a male.
The location of the scissor hold can vary depending on the desire of the person receiving it. While it is typically practiced around the neck region, holds around the entire body or limbs of the submissive individual are not uncommon. All holds are usually conducted with the receiver on their back and the giver on top of them.
Some receivers like to struggle while they are being held to help amplify their feeling of helplessness. Being unable to escape and putting all of one's strength into attempting to do so can result in a heightened level of submissive understanding. The dominant party will typically try and keep the submissive individual as still as possible during this practice, demonstrating how easy it is for them to be kept under control.
Muscle worship is a common fetish associated with scissor holds. People that enjoy being on the receiving end of submission may find a lot of sexual pleasure through the admiration and appreciation of strong, dominant individuals. Due to the size and nature of the leg muscles, scissor holds can be incredibly difficult for individuals to break out of. Larger legs will typically amplify the erotic experience for the receiver, as they will feel even more helpless given that they're being controlled by much larger muscles.
There are a number of other forms of wrestling submission that those who enjoy scissor holds would also find enjoyable, although their experience with grappling submission will typically always be the first one they come across.