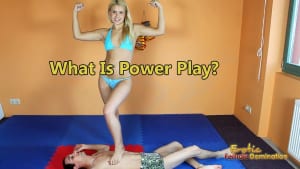 A power play fetish is one of the most common BDSM themes there is. It is the essence of domination and submission, in fact. Rooted in these desires that some have to dominate others or submit to others, power play can cover nearly any way in which these desires come to fruition. For an average romantic relationship, introducing power play can simply become a part of the sexual experience, a purely consensual exchange of power to indulge in these fantasies. And while one person may take on the role of dominant and the other as submissive, these roles could always swap at another time to allow each other to experience the other side of the coin.
Typically, however, people have a power play fetish for one role or the other. For those new to the idea, it may seem scary at first to relinquish power to another person, even someone they trust. This is why things like "safe words" exist, giving the participants a code word of sorts that can be uttered at any time to immediately put an end to what is happening. So, even if one's power play fetish might involve something like pain or other rough play, using a safe word keeps things consensual and safe.
Power play isn't just directly sexual, either. Sure, domination and submission in the bedroom is hot, but there are countless opportunities for lifestyle power play as well. This can include being assigned household chores or other duties to add to the feeling of submission. This is often referred to as "24/7" play, where one of the participants essentially takes on the role of a slave. Of course, this doesn't truly have to be 24 hours a day, 7 days a week; many who enjoy these sorts of kinks may only include them for a few hours a day, or only on weekends or special occasions. Since this is a consensual agreement between those involved, it can be negotiated to whatever best fits their desires and normal day-to-day responsibilities.
For some examples, a submissive might be tasked with practicing their blowjob or cunnilingus skills on a daily basis. They could be required to tidy up the house daily, perhaps even while wearing a maid uniform or other outfit chosen by the dominant. There could be an agreement in place that insubordination is punished with spankings or time spent in the corner. These can all feed into the humiliation or submission that they crave, while the dominant gets to enjoy the power of setting rules or inflicting punishments. It may sound unfair and one-sided to those who don't grasp BDSM, but for consenting people who include power play in their relationships, they're getting exactly what they want.
This fetish can include role-playing. There are many roles that are positions of power, such as teacher, doctor/psychiatrist, law enforcement, boss/executive, and more. Having the dominant take on one of these roles, with the submissive as their subordinate reinforces the whole power aspect of the play in a more direct way while also allowing for fun opportunities for clothing fetishes to come into play and reinforcing the notion that it is all fantasy. Taking on a role makes it more abstract and potentially less overwhelming for those involved since it can make it feel more like a game.
Bondage is also often included in power play, being another key part of BDSM. Binding and restraining somebody is an obvious way of asserting control by limiting their movement, whether it's simple rope bondage, handcuffs, or more extensive full-body restraint. Other types of bondage might include chastity cages or belts to limit a submissive's ability to masturbate and orgasm, or various types of gags to limit their speech. Taking control of a submissive's orgasms or speech is just another type of power play, showing how truly versatile and wide-reaching this fetish can be.
Power play fetishes are increasingly common with the popularity of mainstream BDSM such as "Fifty Shades of Grey" as well as the increasing acceptance of these dynamics in traditional pornography. There is no better time than now for consenting adults to spice up their sex lives by indulging in this fetish and its related kinks if they think it might hold some appeal.