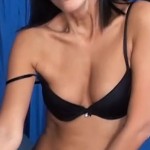 It's late and the cold is making its bites even stronger than a few hours ago. I get into the car and I turn on the heat thinking of my home, filled with lights and joyful warmth, and my slave waiting for me, ready to help me fulfill any lust or desire I might have. I actually enjoy this type of relationship, more than a normal one because I have the compulsive need to be in control, to be in charge all the time and I love it to death when people actually listen to me and obey my orders. John here (let's call him John) is the perfect man for an independent, stubborn and controlling woman like me. He is no less of a man compared to any other macho I ever met! He's actually way above them and he likes to be controlled by a hot bitch like myself.
Well, I guess it's time to start the car and drive home because I start to feel a bit tingly and horny only thinking of what I am going to do to my John tonight. But first I need to stop by the sex shop and buy me a new costume for tonight's play time. I am going to be a clumsy nurse wearing the sexiest outfit possible: a white shirt which will highlight my perky, firm breasts and he will be able to see my hard nipples through it, a short, sexy skirt and underneath the sexiest pair of panties I can find. The outfit is going to be completed by two pony-tales, high heel leather boots and a whip. Of course that I have to find him the most amazing chastity belt because I am not going to allow him get excited and cum unless I am fully satisfied and this is going to take a long time.
Now that I have all I need it's time to head home and set the scene. I am going to wait for him all dressed up and ready for a long night of hot tease and denial.  There is nothing hotter in this world like the thrill you get when you are setting up the scene for a long hot night of love.  I just love to set up the scene when he's not around! I usually like to use the master bedroom of the house because it's bigger and the light is very poor. I love the fact that even if there is a huge bed in the room (where he always manages to satisfy my darkest sexual desires) there is plenty of space left for the beginning of the play. I know friends of mine that share the same passions as I do, that have a special room for "sweet torture" as they like to say but I like to improvise and surprise him. I love to see him waiting, blind folded, not knowing what's going to happen next, just like a kid waits for his candy.
Today I am going to surprise him with this chastity belt. It's the first time I am going to use it on him and I know he's going to enjoy it very much. Every man does. I don't know why, it's something that makes them want your hot body more if they know they can't have it and also if you keep them long enough from having an orgasm, the end is going to be apocalyptical. I love it when they start begging for their pleasure and they look at you with those big eyes filled with lust and dark madness while their juice is rushing through their balls. It's the most amazing feeling ever, like you are the queen of the world and you can control everything, starting with their erection.   
Tonight is going to be a night he won't forget easily! I am going to prepare the chair for him in the middle of the room and as the light goes down I am going to tie his hands really tight and then I am going to start teasing him in my sexy nurse outfit. I know he loves it when I rub my naked ass on his penis. I am going to let him feel me, to feel how wet I am and then I am going to slap his thighs with my whip because he dared to think he can have me so easily. This will make him moan of pleasure and I am going to admire (secretly) how his penis rises in my honor, filled with lust for me and my hot body. As the game of tease and denying goes on, he is going to build more and more desire for me inside and only when the desire is close to  burst I am going to make him wear the chastity belt. I know this is going to be painful but I know he likes it and I actually love seeing him in pain for me. Pain is part of the game and we both enjoy it. That's why I try to bring some reasonable amount in every game we have (and we have many because my thirst of sex and sex games is very hard to quench).
As the sexual arousal increases I am going to allow him satisfy my needs and only then I will allow him to have the most wanted orgasm! But oh! What an orgasm we both are going to have! The volcanoes are going to erupt and earth is going to shake, this is how intense we like to live our sex lives every single day. Every game and every punishment is a way opened to one of the best experiences ever and we enjoy each other's bodies and sexual desires like there is going to be no tomorrow!
But now I have to go and get ready for a memorable night where my slave lover is going to make every nerve or my body twitch of intense pleasure!