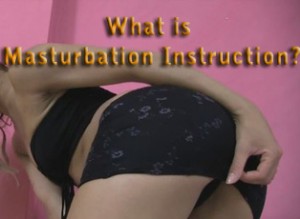 Masturbation instruction is a sub-fetish of the BDSM community as well as a more centralized niche of vanilla sex that takes the format of a woman giving instruction to a man on how to masturbate. Owing to both its focus in the alternative sexual practice world and mainstream culture, many different styles and approaches to the fetish might be adopted. This text will cover some of the more common and important elements of masturbation instruction, with a look at how it relates to the dominant and submissive power exchange between a master and a slave.
Firstly, masturbation instruction can take on many forms. In its most practiced style, a video will be recorded in which the mistress will give clear and concise instructions on how they should be approaching playing with their cocks. There are two genres that can be considered the 'main' types: those instructions that are done without elements of punishment, and those that are. Those without are quite simple: they will go linearly from the start of the masturbation through to the very end, with lots of mention of how the desire for the person to orgasm is the top priority of the instructor.
On the other side of the coin, you have masturbation instruction that is given by real mistresses that want you to be powerless to their commands. Naturally, being told how to masturbate – no matter how loving or caring the person is – will result in you having to give up some level of power. In the case of experiencing it with a dominatrix, this subtraction of power is far greater, and you may find that they want you to go through hell in order to get the final payoff.
There are a number of ways through which this can be achieved, but the most common is physical punishment that you must deliver to yourself on behalf of the dominatrix. Common features of this physical abuse can include hitting yourself in the cock or squeezing your balls very tightly – additionally, tease and denial can be central aspects of the masturbation instruction. Female domination knows no limits, and it some cases, mistresses will completely deny you the chance to orgasm right when you're ready to release. This is often seen as a particularly cruel way to deal with a slave after they have the belief that their body will be able to release itself of the sexual pressure placed upon it.
Masturbation instruction is closely linked to masturbation encouragement. Whether it's the more specialized fetish version or the vanilla style of instruction, some desire has to exist with the person giving the instruction to have the other person enjoy the experience. This helps fuel the desire within the person doing the masturbation, as they feel as if the individual really wants them to do it for them. Naturally, the sexual pleasure that results from this feeling is greatly increased during the actual instruction.
Here is a short story relating to masturbation instruction:
Okay, slave boy. Get down on the floor and grab that cock, I'm going to tease you all day and all night until you've shown to me that you're good enough to cum. So, take that dick of yours and start to jerk it for me. I'm your femdom mistress, and whatever I want, I get. Keep going, and listen closely. Now, when I count down from five, you are going to get ready to release. When I hit one, you can do exactly that – but not a second before. If you reach orgasm before then, I will kick you out of the door and our relationship will be over? Do you understand?
Good. Now I'm going to start the countdown, get ready. Five, four, three… wait for it … two … no! Actually, I think you can go without an orgasm for today. So put that cock back and get back to worshipping me. I hope you enjoyed what little masturbation instruction you got from me. Maybe next time I will let you cum, but definitely not today.