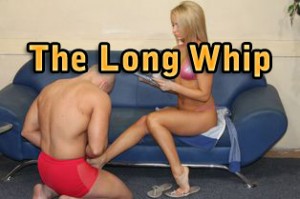 I've been tied up to this pole for over 2 hours since my Mistress decided to put me in my place and make my back in another color than my natural one. I've been taking whip after whip, pointy shoe heels and so many slaps that I lost count. Right now I am just hanging here even worse than the lamp on the ceiling, tired and beat, counting my breaths and waiting for this to be over.
Knowing my Mistress, I know that it just began and that there's more torture to come. So I just sit here with this sweaty pole pushing through my ribs, waiting for another wave of pain to flood my back and fill my soul. I can hear her walking behind me. I can hear those damn high heels knocking on the floor like they are knocking at the door of my brain… There's no way I can know if they are getting close or they are moving far away from me, at least for a few seconds to let me catch my breath and hear my own thoughts again… Right now she's taping with the tip of her shoe on the floor, in sign of discontent. Why is she unhappy? I've been nothing more than extra submissive, I let myself beaten, spit on, trampled on, slapped, my meat is her beating rug. But I know something awful is about to come down on me, I just know it!
I hear the sound of a rope rubbing around, a weird whistle blowing the wind around the room. What the hell is that? She is still far away from me so there's no clue about this. All I hear is that annoying rubbing of something on the floor, no more steps, nothing even close to me. Maybe she just wants to stand there and look at my beaten body, enjoying the results of her torture over my soul…
All of a sudden, my mind is swamped by the memory of an old movie, the one with Harrison Ford as Indiana Jones in '84, in which I loved the sound of his long whip splintering the air. Why is that? Because that's the sound I just heard in this second behind me. Before I even managed to open my eyes and take a peak over my shoulder, a biting hit goes on my back and makes me see my entire life going in front of my eyes. What the hell was that?  I feel my knees deserting me and I can feel myself slipping from the pole, held only by these damn cold cuffs. Another hit comes by, with the same sound and even a bigger pain. I can feel the warm liquids of my body flowing on my back, my ears are beeping and my heart is racing.
It seems that my Mistress found the perfect way to entertain herself… she got her hands on a long whip. She doesn't even have to be close to me, she doesn't have to smell my fear, and she can see it perfectly from a comfortable distance and inflict more pain with the minimum effort. The two stripes on my back feel like 2 huge holes made with a samurai sword, only more painful. When I hear that damned whip crawling on the floor, my whole being tightens from all it joints, waiting for another shear of pure pleasure for my Mistress and pure pain for me.
She comes closer and puts her warm hand on my back, making me push my belly into the pole as I want it to go through me and be the only thing that she touches. If stings, it hurts, it's warm but I feel it cold as ice. I shiver from everywhere, I breath like it's my last breath, I have tears running down my cheeks. She's just caressing my wounds, slipping the tip of her fingers through my cracked skin and laughing at my pain. She goes back again, I think it's time for another round which I don't think my back can take…
This time, my poor back was left alone. In its place, my ass was shredded with four lashes, two on each cheek. I can't see behind but I'm pretty sure that now I have six butt cheeks. She's cheering and shows her joy loudly, adding more to my suffering.
–          Would you like something cold on your back Slave?
Oh hell, I'd love to just jump in an iceberg right now, bare ass. The stings are so powerful that I feel like my body is in 2 pieces now, the piece in front on which all my sweat comes out and the piece with my back where it seems like a war just happened. She un-cuffs me from the pole and lets me slide down like a beaten dog. With her foot she pushes me over on my back like I'm dirt. The cold floor feels like a small blessing for my back but soon enough it gets warm and the small relief goes away quickly. I can't get up, I'm in too much pain! She slides my feet away, spreading them apart and leaving my junk fully uncovered and like a pray for her feet. Right now I would gladly go for a ballbusting rather than to feel that damn whip again on my skin. Just as I begin to be happy and wait excited for her foot smashing my balls, I see her getting away in the same position as before and preparing her whip again…