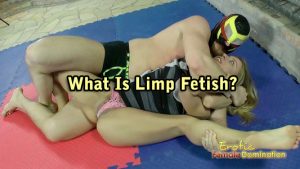 Limp fetishism is a rather vague term that can often refer to many different things in the world of BDSM and kink. Firstly, it should be noted that limp engagements can be both consensual and non-consensual; although the latter is something we would steer clear of and disagree with on a moral basis. That said, a lot of the thrill and rush associated with the limp kink is owed to the fact that non-consent is an erotic aspect of BDSM. Consequently, when practicing limp fetishism, an individual is said to be taking part in consensual non-consent. That is to say that they agree to not have a say in what happens, although of course, safe words can still be employed during a limp scene to ensure all parties are comfortable with what's going on.
The most basic form of a limp fetish revolves around the idea of one individual being unable to resist, typically due to mental incapacitation, the advances of another person. Groups of individuals engaging with a limp individual, or indeed one person having multiple limp subjects can happen, but is rather uncommon when compared to one on one experiences. The mental incapacitation associated with limp fetishism can be due to several reasons. One main method of practice involves a party pretending to be asleep. This can often mean that the individual in control has to be slightly careful with what they're doing, in order to avoid waking up the person they're sexually engaging with. Sometimes, the subject that is limp can stir in their sleep as to increase the thrill and rush of the person that's undertaking the control: the higher the risk, the better.
There are other methods of incapacitation that can also be effective for limp fetishism. This can include the consumption of too much alcohol, a hit on the head or a medically induced sleeping state. The latter has crossover ties with medical fetishism, although obviously, simulated taking of anesthetic is required – it is far too risky to do the real thing.
What happens when an individual is put into a limp state can vary. The desires of people who enjoy limp porn are quite diverse – some find it most erotic to just sneak into their room and look at them, whereas others may way to touch, strip down or even have sexual intercourse with their victim. Limps will often have to try extra hard to avoid making any conscious reactions to the activity, such as rolling over to assist in changing positions or coughing. That said, some limps will moan and groan during sexual intercourse to further heighten the experience of the aggressor, much like the idea of stirring in their sleep was mentioned earlier.
Pornography featuring limp fetishism is quite common and easy to find online. Practice of it in real life can often be logistically complicated and some may feel ashamed about their desires to take advantage someone that has no control. Additionally, others that want to be limp may have issues opening up about their desires.
Limp fetishism is not gender defined, although it is most likely experienced as a male controller and female limper. Foot fetishism is also loosely tied in with limp play, with many individuals who enjoy it also finding pleasure from worshipping feet or shoes while they do so.