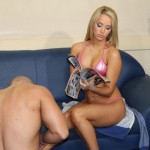 Another boring day at the office, with the same people and the same daily routine. The guys are going out tonight but I'm afraid I won't join them. I don't feel at all like drinking a couple of beers and then singing those silly songs. I have something else in mind, something a bit spicier. I begged her last week for another encounter and tonight is the night.  Tonight I will see her again; tonight I'm going to her slave again; tonight I'm going to obey my Mistress.
As the working day comes to an end, I'm getting filled with excitement. I drive home in a hurry and take a long shower, as I need to be completely relaxed for what is to come. As the hot water pours on my body I close my eyes and get flashbacks of my moment s spent with her. Such a gorgeous and delicate woman but also such an authority figure that really knows how to impose respect. The mere thought of her gets me so aroused; I could almost touch myself right now seeing how much I crave for her. But NO! I can't do this! I won't do this; not now; not before seeing her. I must be my real self, I can't spoil my desire. I turn off the water, get dressed and head for the balcony for a final cigar. It's almost time.
I call a cab and head towards her house. As I open the front gate a feeling of restlessness takes hold of my whole body. My knees are getting weaker and my palms are sweaty. I ring the bell and the door opens. The first thing I encounter is her look. Those green amazing eyes that you can almost feel in the back of your head. That fiery red hair that gets your adrenaline pumping. That luscious body covered by a tight green vinyl costume.
"You are late" – she says with a harsh tone in her voice
"I'm sorry it won't happen again"
"I know it won't because now I will make you regret it! My time is very precious, you know!" – she says with an angry look in here bright green eyes "Now take off your clothes, slave!"
I throw my shirt, my jeans and my underwear on her black leather couch, but she pushes me to her bedroom. My eyes stumble upon a weird contraption that resembles something that I saw in a documentary about torture in the dark ages. It looks like a vertical metallic board with wooden frames. She pushes my back on the cold surface. I am a bit alarmed by this new game of hers but there's nothing I can do now.
She starts wrapping me in cling film to the metallic board. In a few minutes I can't move my body at all. I'm trapped, like a fly in a spider's cocoon. The only part of my body that can still move is the one that is getting bigger and bigger with every stroke of her hands. Those silky skin hands.
"You have been a bad slave and I must punish you now" – she keeps on repeating while she's stroking me with her right hand faster and faster. But I don't feel punished at all, I feel very aroused…
"Ahhhhhhhh" – my last thought is interrupted by an utter strong pain.  She spanked my really hard down there. It's a different kind of pain. A kind that I've never felt until now.
"Do you want me to forgive you?"
"Yes Mistress" – I begged
I could feel her warm hand again, petting, offering pleasure … only to grind my teeth again twice after two more spanks.
"Will you ever be late again?"
"No Mistress, never"
"Beg for my forgiveness" – she said with a very loud voice
"I beg you Mistress, forgive me"
All the muscles in my body start contracting as she stroke me with something more painful than her hand. I felt her whip in the past, but not there. I's very painful there.
"No Mistress, please! No more!" – I start begging with a very serious voice
"I will never be late again, I swear!" – I continued to beg
"You better NOT" – she replied as she started again to touch me down there
"Do you think you deserve a treat?" – she added, while she poured some massage oil on her hands
"Yes Mistress!" – I respond with excitement in my voice
She starts giving me the most intense massage I've ever felt there. I'm now craving for her touch, as it feels even better than a pair of lips. My whole body is like in a state of trance. I start to ignore every image and every sound and my brain is only focused on this deep, deep pleasure I'm feeling right now.
"Do you want this treat, slave?"
"Yes Mistress, YES!" – I beg her with all my soul "Please, doesn't stop!"
Her hand is moving faster and faster and I can't control my moaning.
"Don't cum without my permission" – she said with her loud crisp voice
I try to control my body but her hand drives me wild. I can feel my abdomen contracting as in the final moments before the storm.
"Mistress,  may  I please cum?"
"Yes you may! Cum NOW! Cum for me!" 
For the next few moments I had no control over my body. It started like a moment of silence, then it felt like a tornado. Waves of pure pleasure gushed out of my body in the most intense explosion I have ever felt while her hand kept a strong grip. Involuntary spasms ravaged my muscles before this complete and absolute relaxation took over. I felt so exhausted but so fulfilled.
She used a scissors to cut the film and set me free. I kissed her hands and grabbed my clothes.
I'll never forget this night.