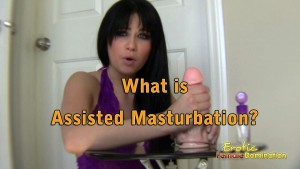 Assisted masturbation can be experienced by both men and women, with both also being able to administer the assistance. While most sessions of assisted masturbation are going to be between two people, it is theoretically possible to have an unlimited number of participants. Assisted masturbation is a very broad category and encompasses a large number of different activities, with some sub-categories having their own specific characteristics. For instance, jerkoff instruction or JOI is a very common form of masturbation technique where a woman tells a man how to play with his penis, typically in a dominating fashion.
The most common aspect of assisted masturbation includes verbal encouragement. The exact nature of this verbal experience isn't defined in any rigorous fashion. It can be simply talking about erotic things, such as wishing to have sex with the person, or more instructive, such as telling them how they should be playing with themselves. Note that this latter case can be both suggestive and demanding. Let's take a look at two sentences where the two differences are clear:
'Okay, now stroke your shaft slowly and make sure that those balls are ready to cum. When I tell you to, you're going to jerk really hard and make sure that you bust a nut as quick as possible for me. Got it?'
'God, I can't wait for you to cum. I just want to see you blow your load all over the place. Keep stroking baby, it turns me on so much to watch you do it!'
While the former is very demanding in nature, the latter is a lot more caring, affectionate and 'vanilla'. There are no wrong or right ways to engage in assisted masturbation, so both are valid forms of this so long as they are enjoyable for both people involved. Additionally, it should be made clear that the ultimate aim of assisted masturbation is an orgasm. Some may rarely employ denial into their sessions, but it does occur from time to time depending on the particular desires of those involved.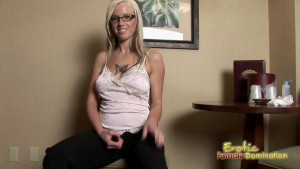 Assisted masturbation can also include physical engagement. This is typically done in two forms: direct contact and indirect contact. For instance, if a woman is rubbing her clit and penetrating herself with her other hand, a partner may kiss her, stroke her nipples and kiss her neck as she does so. This is an indirect form of assisted masturbation. As you may suspect, direct assisted masturbation is performing the act on behalf of the other individual. Handjobs, cunnilingus and other forms of intimate touching may be considered assisted masturbation.