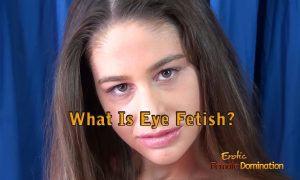 Eye fetishism undoubtedly has its origins in the romanticizing of the eye. Poets, songwriters, and countless others throughout time have praised the beauty of eyes. "The face is a picture of the mind with the eyes as its interpreter," is a quote attributed to Marcus Tullius Cicero, who lived during the 1st century BC. Shakespeare's 'Love's Labour's Lost' features the quote, "A lover's eyes will gaze an eagle blind." Contemporary author Jennifer Salaiz has written, "The eyes are one of the most powerful tools a woman can have. With one look, she can relay the most intimate message. After the connection is made, words cease to exist." The eyes are up there with the mouth and hands on a level of intimacy and expression that makes the sexual fetishization of them less than surprising.
For eye fetishists, this can apply in a number of ways. Perhaps the most obvious and widespread is the simple use of eye contact during sex. It deepens the sexual connection and intimacy, adding an extra thrill to the act. The same applies to oral sex, with many men and women able to be driven over the edge by the sight of their lover looking up at them while worshiping their cock or pussy. For more serious eye fetishists, this sexual rush can occur even without direct sexual contact. Simply looking at a woman's eyes, for example, can be all that a man with an eye fetish needs to be satisfied. Naturally, there are numerous other subfetishes that go along with this.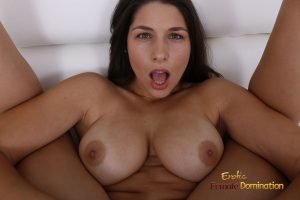 Makeup is perhaps the most common fetish that corresponds with an eye fetish. Women have been using makeup to accentuate their eyes since at least 10,000 BC, when Egyptians painted their eyelids with dark kohl. Since those days, eyeshadows, eyeliners, mascara, and other eye cosmetics have changed and expanded into the enormous selection you can now see at any drug store or boutique. Whether it's the contrast of colors that the makeup has with the iris of the eye, the illusion of making the eyes appear larger, or the use of mascara to make eyelashes longer and more defined, these methods have been historically successful in driving men mad with desire. Specific eye makeup colors and styles can also correlate to specific exaggerated "looks" such as goth, punk, or bimbo that may also be fetishized.
Eye color can certainly be a specific fetish, just as hair or skin color can. Similarly, some people fetishize the use of color contacts, which can not only make brown eyes blue (as one example) but can give humans eye colors or appearances that would otherwise be unnatural. A woman could therefore have purple or red eyes, give them the physical appearance of a cat's eyes, make them glow in the dark, or opt for even more alien and exotic looks to really indulge in fantasies that may once have only existed in fictional tales.
Whether we're talking about makeup, cosmetic contacts, or simply a trained stare or fluttering of the eyelashes, eye fetishism has grown in popularity in the BDSM world. Dominant women use some or all of these methods to appeal to the fetishes that a man may have, and knowing that the appearance gives them additional power over the infatuated submissive. In addition, the eyes are an important focus of hypnosis fetishes. Submissives are often encouraged to look deeply into the hypnotist's eyes, losing themselves in the beauty and depth of those long-romanticized orbs until they find themselves completely at the mercy of the dominant and their suggestions. They may also associate this trance-like state with a fantasy of their own eyes going glassy or swirling.
For all these reasons and more, eye fetishism has been around for thousands and thousands of years in a number of forms. The internet in particular has given a massive outlet for fetishists, since physical contact isn't necessarily required to indulge. Dominants can record high definition video with a focus on their eyes, speaking in sultry tones to captivate the viewer, and submissives can commission content relating specifically to whatever subfetishes they have to go along with their obsession with eyes.