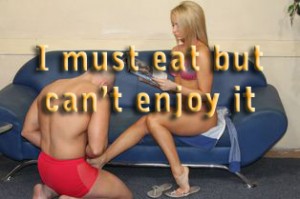 It's one of those days when you know something is going to show up and either make it better, either turn everything to the worst. I haven't been in touch with my Mistress for a while now, even with my constant begging for her badly good humiliation sessions, the ones I had to endure the unpleasant moments so I can enjoy the pleasure of her company, in whatever form that was.
Today I had a bad day at work… everything going south and it seemed that nothing could make me feel better… but wait, my phone is ringing. I know that ringtone, is a special one… it's HER. I feel my heart rising it's beats and the power of my speech going away, right now when I'm about to answer.
–          Hey, what are you doing? Are you sitting? – what an odd question, I was expecting something on the line of "how are you".
–          No… I'm just leaving the office, I was about to…
–          Doesn't matter… I'm not sitting either but I'm here with a good friend of mine and we both want to sit! You have 20 minutes…
Well, if I wasn't pretty shaken up until now, I am now. Can't really figure out what she meant by that… I mean why can't she sit if she wants to? What's this all nonsense with sitting and… ooooh wait. Maybe this is one of those games of facesitting I love so much, those rare moments when I feel the warmth of her body dropping on me and the sweet taste of her fluids running over my mouth while she slaps me and makes me talk even if I can't. Oh, this is not a good time to go ahead with my dirty thoughts, I might as well wake up on the floor bare naked with a boot in my mind… nevertheless I must go to my Mistress. Until I reach her place I can't have any hopes or any scenarios running around wildly.
For 20 seconds I hold my hand in the air, not knowing if I should knock or ring the bell. I's been so long that all my instincts regarding her place have faded away. I think my presence may have been felt since the door started to crack and bring light into the dark stairwell. She just opened it and run away, leaving me right there. The door to her bedroom was slightly opened and I heard giggles and whisperings. She's not alone, but she told me that already.
I walk into the room and I see her, wearing black silk c-thru lingerie, having a glass of wine in her hand. Besides her, another gorgeous creature in the same posture was measuring me from top to bottom with a smug face. "Uh, he looks good, we're gonna have a lot of fun". That sounds… promising at least.
–          Clothes off and get on your back Slave – my Mistress tells me on a low commanding voice.
I don't have time to think of anything, I missed this. In a matter of seconds all my clothes fly away and I'm lying on my back, with my eyes closed, waiting for whatever is about to happen with a fast beating heart.
While I rest on my back, I see them both getting up and throwing away whatever piece of lingerie could stand in the way of their pleasuring and me as an instrument. Her friend pushes her black panties down a bit and slaps her gorgeous ass, continuing with lascivious moves as the panties go down. My Mistress laughed… Her friend just spread her legs and puts her pussy on my lips. In that moment I hear a command: "Lick it Slave, make her feel good"… I submit instantly and start devouring her friend's  pussy as if it was my first food in ages. She moves like a dancer, rotating her waist above me, letting me feel every bit of her on me. My Mistress grabs a whip and starts slapping my feet, as a sign to go faster, deeper and perhaps better.
Her friend turns around and my Mistress grabs my hair, moving my head in all directions and pushing my mouth even harder in that sweet, wet and juicy heaven. I lose myself in this and enjoy every second, still waiting for the thing I was missing most…
In a matter of seconds, my Mistress gets on top of me, in the same position her friend was just now. She has her ass and pussy on my mouth and with her hand still in her hair, she pulls me hard up as I rotate my tongue inside her. I dare to open my eyes and see the other woman grabbing her as she was her slave and kissing her neck. I could feel her hand playing with my Mistress's clit on my chin, as if it was a competition. For about 20 minutes, this heavenly play continued, making both of them moan while I was struggling to believe that I am the reason.
–          I have an idea… – sais the woman that right now is in control of both of us.
While my Mistress is still on my head, moving around and making me the object of her pleasure, the other woman whispers slowly into her ear "I think I want more than this". I know that right now I give a full view of my throbbing manhood and I can't stop it. She grabs my Mistress and starts kissing her passionately, while pushing her even harder on my face, leaving me with no breath. I have my eyes wide open now and I can see that they are starting to have fun on their own… but are they? The other woman gets on top of me, grabbing my hardened cock and tells my Mistress "use his hair to make him go harder…"