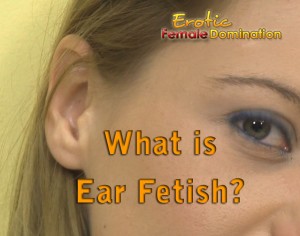 Ear fetishism is a form of Partialism, a word used to describe a focus or exclusive attraction toward one part of the body. When it comes to focused forms of fetishism, an attraction toward ears is one of the less common locations for people to be obsessed with. Partialisms, like other fetishes, can be expressed and engaged in a variety of different fashions. Ear fetishes are typically harder to satisfy through pornographic or physical engagements, owing to the fact that it is a rather uncommon and specialized niche.
Some individuals that have ear fetishes will often find someone they're comfortable engaging with sexually and explain what they'd like to do. There are a variety of ways that someone with an ear fetish can get sexual pleasure from their desire. As with other forms of fetishism, simply observing the body part is enough to arouse an individual. Additionally, preference for certain types of ears – such as those that are large, pointy or pieced – can occur in the same way as standard fetishes progress.
An ear fetishist might enjoy touching ears with their hands, kissing the ears, sucking on them or engaging in another similar type of worship of them. While genital contact with the ear might be arousing for some, most individuals with ear fetishes do not engage in this activity. Those on the receiving end of an ear fetish may find that the pursuit of the other party is particularly enjoyable, owing to a concept known as the autonomous sensory meridian response – commonly referred to as ASMR – which produces a pleasurable tingling sensation when certain noises are heard. Given the proximity of the fetishism, this response is easily triggered by a fetishist.
Some ear fetishists might find that they can practice their fetish during masturbation. They may elect to touch their own ears during this time to simulate their desire for contact with another person's aural region. Seemingly menial tasks may also be quite erotic for an ear fetishist. Activities such as sharing earphones and whispering can be particularly arousing, although this is not to say that every individual with an ear fetish will think as such.
The practice of ear fetishism is relatively safe to practice so long as no stronger aspects of BDSM are included. Particular care has to be paid toward the ear, as anything extreme can result in loss of hearing on a temporary of even permanent basis. Particular care should also be paid to the volume of interactivity near the ear canal for this reason.