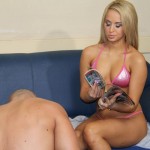 It's almost 9 o'clock in the evening, the rain is still pouring and another day has gone by. I light up a cigarette and put in my mouth. My lips feel so dry, probably from the glass of wine I had earlier.Again I feel strange … 21 days since I last saw her and she still lingers through some deep corners of my mind;I'm somehow lonely having only this cigarette and bottle of Pinot Noir as my company… but let's not forget about the rain, this unlikely friend that I hear tapping on my windows for three days now.
I pick up the cell again and dial her number. It's ringing. Her soft and appealing voice answers my "Hello" with a very straight "Behere by 11!".
I put on a pair of jeans, a black shirt and some of that perfume I think she likes. As I climb the stairs to her apartment I fantasize about a movie I saw a long time ago, but my mind is interrupted by the sight of her brown metallic door. I knock, it but I'm startled by her sexy voice "turn off the  lights and turn backwards!".
I obey hervoice, turning my back against the door and she lets me in.As I enter the apartment I feel like invaded by a new fragrance. It's something I've never smelled before, like the dew of forest flowers mixed with the smell of new leather. My heart started pounding really fast. Adrenaline rushed through my body, like almost preparing it to fight an enemy or to run. But no, I choose to stay and be fascinated by her spell. I feel her hands covering my eyes – "Don't you dare to look!" she says. She pushes me into the wall, head on. I feel her very powerful grip but yet coming from such delicate body. She blindfolds me with a scarf having the same fragrance as hers. I feel her body pushing into mine and her lips almost touching my left ear:
"You will do as you are told, or you will suffer the consequences" – she said with a loud voice. "Do I make myself clear?" – she said again after a couple of seconds…
"Yes!" – I babble
"Yes   who?" – and I feel that intriguing pain of the whip that  does not make me irritated, but makes me bite my lower lip.
"Yes Mistress!" – I say with a loud and clear voice
"Get down" –she says while pushing my head down with her strong grip.
I feel her left leather shoe pressing on my lips. I open my mouth and start licking it; she moves her hands through my hair with approval "That's my good slave" – she says… "now take it off". I take off the shoe and start sucking on her toes. She presses her toes deeper into my mouth and for the first time I start hearing her breath louder than my heartbeat. As I continue playing with her toes I feel again that sweet pain over my back. I grind my teeth and continue my duty as a slave. HER slave.
"Take off all your clothes" – she says with a very dominant voice
I don't even have time to think about it, because I keep feeling that pain of the whip all over my body.
"Yes Mistress, Yes!" – I say as I start taking of my jeans and unbuttoning my shirt.
"Your boxers too!"
I don't have time to think about anything else because the strokes of the whip are getting stronger and stronger.
"Lie on the bed!" – she says while she's guiding me to the bedroom
The time I waited on the bed all I could hear were two zippers. I could only hope but then I realized. She is naked too. In these moments I really wish I could see those sweet breasts and round ass, her hair, her eyes, anything; but no, all I could feel was the weight of her body pressing down on my face. For a moment I panicked because I wasn't able to breathe, but after a few seconds she moved a bit, gave me a chance to gasp for breath and pressed again.  I could feel the might of her whip all over my body, especially where my boxers used to be.
"Move your lips, I have no use for numb slave" – she said
I started licking her hottest spot while feeling that whip biting from my body. Ohh the whip – I love it and hate it at the same time. I could hear her breath again, this time stronger than the last. I could feel her getting wet and it wasn't my saliva; and so was I. I felt hard. And for the first time tonight, with this last stroke of the whip, I felt pleasure; sexual pleasure. I was licking her and I was getting wet too. From time to time, besides her whip I could feel her hand over there, playing for a couple of moments with it, petting it like it was something precious.
She then got up, took both my hands and tied them to the ends of the bed. Then she did the same with my legs. I could not move. I was powerless. I feel her biting my body and stroking me with the whip but then she stopped. I felt her hand down there, moving gently this time, with precision, with control. It was driving me wild. I kept biting my lower lip and started moaning.
"Stop whining like a little boy!" – she said and I felt again that sweet pain over my chest
I stopped moaning but she didn't stop playing. I was so aroused; Any time now… any time…
But as my muscles were contracting involuntary she stopped.  She got up and I could hear her footsteps getting farther and farther from the bed.
"Don't stop! Come back! Don't leave me like this!" – I said but then I felt the hardest stroke of the whip! Pain! Real pain
"Never tell me what to do"- she said
"Only I decide when you deserve it!" – she added
And again I felt her hand moving and stroking and almost taking me to limit but then stopping. She teased me like that three times … but I was the slave and she was my mistress; I couldn't complain.
All my muscles were so tense now. All that energy is like a bomb ready to explode. You could almost hear the sound of me biting my lips..
"Please, don't stop! Don't stop again! Don't stop now!"- I said with a cocktail of panic and desire in my voice.
But this time she didn't. I felt her lips now; her sweet soft lips blessing me in my final moments of battle; her warm wet touch while my body shivered and I exploded in waves and waves of hot pleasure.
"I am a good slave" I said to myself "she must be proud of me".
I don't know if there were moments or minutes in the time that followed but I heard those two zippers again. She released my arms and legs. She put a cigar in my mouth and I heard the sound of the lighter. She took me by the hand and we got closer to the door. She took off the scarf that was covering my eyes and whispered to my ear:
"You have my number" – she said, while hearing the sound of her metallic door closing.