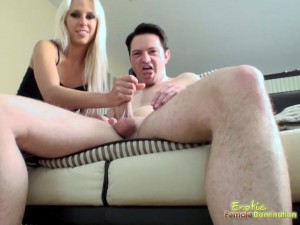 –          Tell us something about yourself
–          A person like me should not have to tell something about herself, you can just take a look at me and see on the spot what kind of a person I am.
–          For the sake of discussion, can you at least try?
–          Ok. I am the Bull, the Mistress's lover, the man who makes her life as it is, beautiful and adventurous. I satisfy her every need and, not to be shy, but I think she never had a man like me!
–          Every need you say…
–          Yes, of course.
–          So you buy her gifts, take her out?
–          No, you crazy? I don't have to do that, she has a Slave for that. Why the hell would I spend my money on her? I give her something more valuable, I satisfy her. That's all women want, you know? A handsome man who can keep it up for hours and be… you know, manly.
–          Yeah… sure… I see…
–          I can keep it up for hours man, I can pound her hungry hole like crazy.
–          I think we got the idea…
–          There was this one time when I bent her over and give it to her on the couch while her Slave was licking her feet. And I was all up in there like crazy, you know? That poor cocksucker was like all in his knees and whipping like a little bitch while I was fucking his Mistress, you know?
–          I said we got the idea! Can we m…
–          And there was this other time when she was spanking him with a whip and made him jerk of his tiny dick man. I mean I was on the couch rubbing my huge cock and laughing at him and she was telling him to look at me and my big cock and she even wanted him to kiss my legs but I'm not into that shit so I kicked him over the floor.
–          Jeez, can we move on?
–          Yeah, sure… what did I say?
–          Nothing important. What's your opinion on the Mistress?
–          Oh, she is so hot man. I mean insanely hot, you know? She's got this like perfect body and her shapes are hot man. I never saw such a hot woman before, you know?
–          So… she's hot… any more thoughts on that?
–          Yea man, and she's also beautiful. I mean I like her when she's all angry and stuff and she makes her Slave watch us when we're having sex.
–          I think "hot" covers "beautiful", but please go on…
–          I like to know that there's someone watching us, it makes me feel like I'm the master there and whenever she puts that guy on the ground and wants me to fuck her on him I get even more excited. I don't like when she sits on his ass and I have to sit on his face because I'm not like that, but she is so hot that I go nuts and do her right there.
–          And what do you think about the Slave?
–          That guy… I never saw a bigger loser. I know he's a virgin and he never had his small cock inside a pussy before.
–          Yeah… that's what a virgin is…
–          He's a loser. I get to kick him around and give him orders whenever I want. He's our Slave and he does everything we tell him to.
–          "We" as in you and the Mistress?
–          Yes. I mean she gives him the orders and stuff and she tells him to do what I want also.
–          So… that means he's obeying his Mistress, not you…
–          It's the same I guess.
–          No, but that's beside the point right now. What do you enjoy most?
–          Well, sometimes I would like to be just me and her, you know? I don't understand why that creep has to be there all the time, I mean I'm more of a man that any man she knows and I have a huge cock, more than she ever had and we don't need him. But, since he's never absent, I like when she makes him jerk off while she's sucking my cock and plays with my balls and when she asks him "you like this Slave? You have to like it" and he's all whippy and crying in his knees.
–          You like when he jerks off?
–          Yeah, when… Wait, NO man, I mean I like when she makes him see what I do to her and shows him how a man treats a woman and how he satisfies all her needs.
–          Physical needs you mean…
–          Yeah, all her needs. I don't think she ever had a man like me and it's clear that she's crazy about me. I mean look at me, I work out and stuff, I can hold it on for hours…
–          We covered that already…
–          As I said, she's hot and I don't know why she really needs to have a Slave when she can have me when she wants.
–          Are you there whenever she calls you?
–          Hell no, I have my own stuff going on. Only when she wants to fuck I'm there, no woman can tell me what to do.
–          So, do you see them often?
–          Pretty much, yeah…