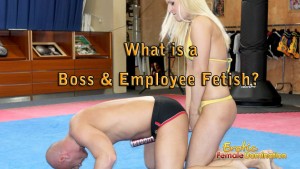 In terms of sexual fetishes involving roleplay activities, boss and employee relationships are likely to be one of the most popular and engaged upon, particularly in the porn industry. While not immediately obvious to many, the underlying elements of eroticism are common in other areas of the BDSM community. In this article, we will look at what makes office sex and boss/employee fetishes popular and erotic.
It's important to note that both men and women can be the boss and employee in any experience. It should also be obvious that the boss is likely to be the dominant individual in the experience with the employee being the submissive individual. Note, however, that this is not always the case, and an employee in a roleplay fantasy may have some form of control over the boss that they then exploit for sexual experiences. This power dynamic exchange is very popular in BDSM and forms a basis for most fetish 'scenes'.
The taboo nature of a professional relationship being violated in such a fashion is also a highly erotic aspect of the engagement. Individuals that work together are supposed to maintain a relationship that is reasonable and respectful as well as somewhat 'hands off'. While coworkers are often friends, company policies typically see those in higher positions making friendships with those in similar positions. This violation of standard is also somewhat erotic, as is the potential exploitation of position in order to get what one desires.
Additionally, boss and employee fetishes may encounter other taboo topics, such as infidelity. A common trope in pornography involves a male boss having a demanding, nagging wife at home that doesn't provide the sexual release they desire. Because of this, they may turn to a secretary or other worker in order to find sexual pleasure. Additionally, real world statistics show that affairs likely occur with someone that the individual has met through work. Again, this taboo is popular in the world of BDSM.
Finally, boss and employee fetishes may also occur in locations where there is the possibility of getting caught, such as an office room or storage facility. These quasi-public locations provide a thrill to individuals engaging in them and show a desire for secretive engagements to potentially become knowledge of those around them. As we have seen throughout many elements of the boss and employee relationship dynamic, this is very much in line with activities that are engaged upon in the BDSM space.