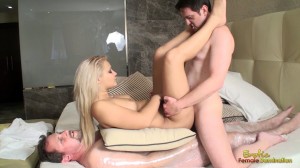 –          So, you are the Cuckold Slave. How do you see your life role?
–          Well, to be honest, I am pretty proud of whom I am and always happy to be at my Mistress' feet, taking her orders and doing whatever she wants me to do. It's not a role as I see it, it's actually who I became over the years and if I'd had the chance to take it from the beginning, I would do it again, exactly the same… well, maybe not exactly, because I am sure that I've done some wrong choices and I would fix those.
–          Like what?
–          It's always hard to please my Mistress and after I do it, I think that if I would've put more effort, I would've done a better job.
–          So it's all about pleasing your Mistress…
–          Of course. What else is there? For me, being in her presence is the only reason I woke up in the morning, the only reason I keep breathing. No matter what she does to me or makes me do, I'm sure I deserve it and I can take it.
–          Do you ever get angry on her?
–          What? No way! I know that I find myself in bad situation sometimes and it's tearing my insides, but I would never hold a grudge on her or even have the slightest problem with what she does. It's true, seeing her with another man right in front of my eyes is not a pleasant moment, but as I am not allowed to have an opinion on that, I move along and let her be happy.
–          So your opinion about her is pretty high…
–          "High" doesn't even start to describe it. I think of her as my world and there's nothing I wouldn't do for her. I work for her, in the sense that I have a job and all my earnings are spent to make her happy. Most of the time I'm at her place, I can barely remember how my condo looks like. She tells me what to wear so I don't have a need for clothes. I used to have friends who told me that she is bad news… now I don't have friends anymore.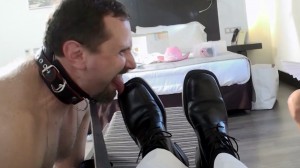 –          What about the Bull?
–          Oh, that guy… The mere sight of him makes me tremble and if it was down to me and him in this world, I would crack his head with something.
–          Wow, that's pretty strong!
–          You think? I mean the guy looks better, I give him that, but I still don't get it why he feels the need to treat me like scum, like I'm his bitch since he's just an idiot with a big cock. I don't know if he even has brains, he does what my Mistress tells him to also but he acts like he's in charge and kicks me around.
–          You see him as a threat?
–          He's just a cock blocker, not a threat. I mean if I trade places with him, I'm sure he won't last a week because he doesn't love Mistress as I do, he's just enjoying this life as if he is a fucking king. He's just the meaning to a purpose. He's not behind me, is he?
–          No, you're safe. So you hate him…
–          Yeah, I do. It's not fair, he's getting all the good stuff and I'm the loser who gets to sit on the ground and be asked if I like what I see, if I enjoy seeing him fucking my Mistress. That's the best scenario actually. Most of the time they use me as a couch and fuck right on top of me. The worst part is that most often he sits with his ass on my face while he's pushing his junk inside her and she asks me if I like his manly balls being rubbed on my face. I could easily puke if I wouldn't be all wrapped in nylon foil or something….
–          Still, this is your choice in life
–          Yes it is and I am able to endure this because I love my Mistress. Whatever she lays in front of me, I take it, even if sometimes I don't like it. Yeah, sure, I have a small cock and I act like a worthless rug sometimes because it's the only way to go. But I still have those moments when it's just me and her to wait for, so everything becomes more bearable.
–          How do you think that Mistress looks at you?
–          She can look at me however she wants to, it's not for me to judge that. Still, if I would have any saying in this, I'd like to think that she considers me as her faithful Slave and she trusts me. Even in those moments when she gets fucked in front of me or on me, I still see a glimpse of mercy in her eyes and sometimes I think she feels bad for the torture that she's putting me through. If that's not the case, at least I like to think that it is.
–          And the Bull?
–          I don't care what he thinks of me. I see that he looks at me like I'm scum and his smug face pisses me off every time he sits on his back and gets pleasured by my Mistress, like he's the champion presenting his trophy to the defeated ones, but he will never have her attention as I have it. I am near her almost 24/7, he's there only when she wants to get fucked…
–          You do realize that you just described as he gets the good parts and you get the bad ones…
–          What? No…  there are no bad parts… I mean… as long as I am her Slave and I am at her feet, there are no bad parts for me…
–          Ok… so what do you do in your spare time?
–          In my what?