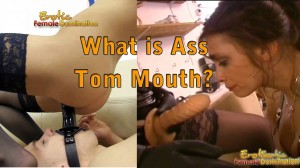 Commonly abbreviated as either ATM or A2M, ass to mouth is a phrase used to explain the process of someone giving oral sex to their partner immediately after receiving anal sex from that individual. While a form of ass to mouth known as ATOM (ass to other mouth) exists, this article will focus on the single dynamic between two people. Moreover, it will also appeal to the nature of heterosexual ass to mouth, where a male has anal sex with a female and then the female gives a blowjob.
Ass to mouth is typically performed without condoms, but it is possible to practice the activity using protection. It should be noted that in ass to mouth sessions that do involve condoms, the oral sex aspect of the fetish is also performed with the condom on. This is to maintain the 'dirty' nature of ass to mouth, which is a large part of its appeal.
Ass to mouth is often associated with the degradation of the female party. Some males that participate in ass to mouth may also use language that reflects the dirty nature of the lady he's doing it with. The most common question and focus is on the woman being able to taste her own ass and also enjoying it. Women who perform ass to mouth may receive a sexual rush from the unhygienic nature of the activity and being degraded in unison with the performance.
It is recommended that before performing ass to mouth that the anus of the individual receiving the penetration should be cleaned. The most common method of cleaning is by using an enema in the shower. Engaging in the activity of ass to mouth without first doing this can result in a very high level of undesirable taste on the penis. Cleaning the anal passage helps reduce this issue.
Girls that perform ass to mouth are usually considered by males to be desirable for sexual encounters. Their willingness to perform both anal sex and offer blowjobs are the two most wanted features in a sexual partner for males: naturally, a combination of the two is something of a jackpot scenario. Women that engage in ass to mouth may also be willing to engage in other forms of alternative sexual entertainment, most notably BDSM.
Ass to mouth has a higher than average risk of transmitting STDs. For this reason, it is recommended to use protection at all times and avoid engaging in the activity regularly. After ass to mouth has finished, it is recommended for both individuals to wash themselves thoroughly, with high levels of focus being applied to the mouth and genital regions.