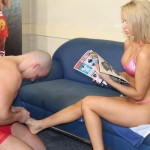 I just love Italian food, that's why I'm so thrilled every time we come to this restaurant. I can't say we're best friends but my colleagues and I have been working together for almost 6 years now. Usually Friday is the least busy day of the week so we can afford a two hour lunch. It's now when we laugh about all the stuff that happened during the weak and we tell each other our plans for the weekend. I enjoy this relaxed atmosphere and in my opinion this is better than any teambuilding I've ever attended. As we pay the check we take the last zip from our drinks and get ready for the last few hour of work this week.
Back at the office you could see how everybody was struggling to finish the final forms and reports. For me it was nothing urgent, no deadlines this week, nothing that couldn't be done the next Monday.  As I browse through these holiday offers I got in my email, the phone on my desk starts ringing. I pick it up and I hear her voice:
"My office. Now!"
I head towards the elevator and while releasing my tie a little bit. I felt as if it got very tight all of a sudden. As I watch the floors going up on the elevator screen I feel my heart pumping really fast. I had a secret. A dark little secret. About 8 months ago, after she got her promotion, Claire – or as she likes me to call her "Miss Davis" called me in her office and told me that from that moment on I belong to her, and if I want to keep this job I must work really hard and be a good employee.
I got to her office door and noticed that her blinds were folded. For a moment all sort of thoughts went through my mind like bullets: "maybe she found another slave", "maybe I wasn't good enough for her", "maybe it's over and now she's firing me". I could feel my heart pumping out of my chest. I knock on the door and enter her office.
"Sit down" she says
"Is here something wrong?" I reply while I try not to look that nervous
"Did I say you could speak?" she said again without even listening to me
"No Miss Davis! Sorry Miss Davis!"
"Those reports you sent last week are inaccurate. I want you to go now and redo them, and I want them by end of the day! It's a matter of millions of dollars! Call me when you're done!"
As I head back to my office with that blue map in my hands I look as all my colleagues are getting dressed and leaving. A strange feeling got over me. I felt so relaxed a few hours earlier and now all I could think was that I disappointed Miss Davis and it may cost me this job. I take the reports page by page and try to figure out what I've done wrong. After two hours of concentration and hard work I pick up the phone and call her:
"All done! I've corrected them"
"Bring them here. Now!" she said with authority in her voice
As I head again to her office I realize that the night has taken over the city. The view is amazing from the top floor. It must be only me and her in this entire building at this hour. I knock and enter her office.
"Lock the door!" she ordered
"Here's the report!" I say to her with pride in my voice (pride because it only took me two hours to redo it, while others could lose a whole day with an issue like this)
But she doesn't even look at it. She takes the map and throws it in the trash bin. I'm startled; I thought it was a matter of millions of dollars. It's now that I realize she's wearing different clothes than two hours earlier. Instead of her office suite she's now dressed in a black tight vinyl suit and some vinyl boots, also black.
"Did you panic, slave? Did you thought you could lose your job?"
"Yes Miss Davis!" – I shamefully admit
"I know you are a good employee, but are you a loyal employee?"
"Yes Miss Davis!"
"Lest just see how loyal you really are!"
She gets on her desk and pushes me in her chair. She moves her right foot up my leg, slowly and she pushes it when she reaches the zone that hurts the most.
"Are you loyal, slave?"
"Yes Miss Davis" I respond while I try to hide the excitement in my voice
She moves her foot up my chest until she reaches my mouth. She presses hard and I open it. I start licking her vinyl boot. I can see her satisfied look while I do this. She pushes and pulls her foot in and out of my mouth, and I suck on it with passion.
She then approaches me and presses her big breast to my face. I can barely breathe. I start licking that vinyl and she unzips it off. She now rubs her big juicy breasts to my face. I feel like a baby spoiled by his mother. Her breasts drive me wild.
She takes her pants of and pushes me on her desk.
"Eat my pussy and ass!" she says while she presses them hard over my face. I obey her every command. I lick her like never before. I can feel her warm juices dripping on my face.  She moves her body slowly while I do my job, my job at which I'm so loyal. I can feel her body contracting harder and harder while I keep massaging her with my tongue. After a few more strokes I could feel her whole body shiver uncontrollably, like a three second pulse after which I could hear her catch her breath again.
She smiles and pets my head.
"You are indeed a loyal employee. Very loyal".
"Next time maybe you'll get a treat" she added.
I feel so happy that I could please her. Now I only have to deal with this deep pain I feel down there.
As I want to exit her office she hands me a box of tissues and a small bottle of lubricant.
"You will need these, because you have been such a good slave!"
"Thank you Miss Davis!"
I take her gift and head back to my office. It will be a happy ending after all.