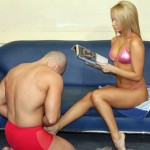 We have been married for 11 years now. I can't say he is the perfect man, but I always knew he was my soul mate. Our marriage had its ups and downs but we always managed to get over any problems. Like in any other couple, our sex life started to get a bit boring as the years went by. Sure, he did his best to keep my satisfied and I also did, but the routine settled in. He was always the dominant one and I always respected that, giving the fact that in our society men are usually the heads of families. 
A few years ago we ran across this video about female domination and seeing that we were both turned on by the idea we thought we give it a try. Our sex life took an amazing turn after that. Every once a couple of weeks we escape the routine and enter our roles.  We usually do this in the basement as it's the only place in our house that doesn't have memories of our normal sex life. It's there, in the basement, that these amazing things happen, things that really spice up our time together and makes us crave each other even more.
Yesterday I caught him watching some porn, as I got home early from work. He was quite embarrassed by this fact but I didn't make a big deal out of it. After all, I know all men do it from time to time – and I would rather he watched porn than picking up some bimbo for one night when I'm out of town. Little that he knows is that sometimes even I surf the net and watch some of these clips; of course I'm way more careful than him, but let's face it, it's in our nature as women to be like that.
He doesn't know it, but tonight there will be a surprise waiting for him. He usually gets home by 7 o'clock. I bought this vinyl suit from a sex-shop the last time I was away for business. He doesn't know about it, and will surely turn him on. Usually I'm pretty modest but this tight suit really makes my curves stand out.
As I hear his car entering the garage I get ready.  I wait discreetly behind the door. As he enters I put my hands over his eyes and tell him not to do any sudden moves. I then escort him to the basement. As we get down there, I put my hand in his hair and press
"Kneel! "
"Yes Mistress" Good I think, he's in the mood.
As he's standing on his knees before me, I take my hand from his hair and I give him one finger. He looks at me with those innocent eyes of his, then looks away in shame and starts sucking on my thumb. Feeling his lips and tongue moving like that gets me really aroused. It's amazing how fast I can get wet while we're role playing. I slowly start biting my lips while I'm pulling on his hair with my other hand.
I tie both his hands above his head by the garage door and I take a black scarf and tie it around his eyes. I then take out a leather belt and hit him hard over his back! I can read the surprise from his reactions.
"Were you watching porn the other day?"
"Yes Mistress!"
"Why, slave? Am I not good enough for you?"
"You are Mistress!" as he tries to explain himself I hit him again twice. The belt laves some long red line over his back.
I can see him getting almost scared and this turns me on even more. I start rubbing myself by his knee while I take a bite of his left shoulder. I feel so wet.
"Did she make you want to cum?"
"No Mistress!"
"Don't you lie to me, slave!" and I hit him harder than ever before
"Yes Mistress, she did"
"Were you going to cum in our bedroom?"
"Yes Mistress! I'm sorry Mistress!"
"I will make you regret that so much!" and as I say this I start rubbing his manhood with my hand.
"Are you sorry?"
"Yes Mistress! I am so sorry!" but he is interrupted by a spank over his manhood. His whole body reacts to that hit. I guess it's really painful but I feel in so much control over him.
"I want you to cum for me, thinking about her" I say while I pour some massage oil over his manhood and start to stroke it carefully.  I can see him relaxing his body and starting to enjoy this.
"Will you cum for me, slave?"
"Yes Mistress!"
"Are you thinking about her?
My moves are accelerating on his helpless body as I wait for an answer from him, but all I can her are moans.
"Are you thinking about her?"
"No Mistress! I'm thinking about my wife!"
His last words put a really big smile on my face! I started to rub him really gently and passionately and when I saw his muscles contracting more and more I told him
"You have now my permission to cum!"
I continued my massage as I felt his hot pleasure dripping over my fingers.
As the night fell and we were in bed, I patted his head and gave him a kiss on his shoulder. "That's my obedient slave" I've told to myself.