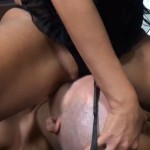 If there's a way to reach a limit, my Mistress knows how to get there. Fast or slow, whatever the means are, she is a master in pushing a little bit further what goes only to a point. I don't just say this for the sake of argument, I am the subject of her games and probably know the best what means "enough" for her:  "a little bit more" .
I was watching her drinking her coffee and trying to break two nuts in her lovely hands. Pretty hard task fur such a frail and beautiful creature. Probably those nuts didn't want to break just to stay in her hand for a longer time. I cracked a smile myself watching her. I wasn't thinking that she's helpless like that, just that it's funny how she tries. She didn't find the humor in all this… She stand up, put the nuts in my mouth, smiled and said "I guess I need a nut cracker!" and she punched me in my balls, so hard that I smashed those nuts in my mouth in a split second. I bend over from the pain, trying to breathe and not choke with the bits in my mouth. She opened my mouth and smacked me on the back of the head, making me drop the broken nuts in her hand. What the hell was that? I think I need to get out of there as soon as I can, I had no warning for this and I didn't thought she is in this kind of mood.
"I hope you don't have any plans for today, I was thinking to spend the day together…" Well… there's my chance of living flying away. Of course I had plans for today, after this short display of savagery, my mainly plan was to stay alive. I don't want to be misunderstood, I love her to the end of time, but I don't want mine to be here before it should.
She gets two more nuts in her hands. I start to breathe deep, getting ready, saying goodbye to my own nuts because I don't think they can take another hit with that power. Luckily, the ones in her hand break but she's not really happy about it. She just found a sadistic game which makes her twisted mind happy and she can't let anything mess that up. She takes another pair of nuts in her hand. I'm looking for a way out, since my pain is still there. "I think I'm going to the bathroom" I say, thinking of a way to stay in there for as long as I could. "No you're not… these nuts are not breaking…" Huh, run for my life or wait for it to run out of me? Not a big dilemma by my standards… She puts the nuts in my hands and grabs my balls. "When I squeeze, you squeeze, but don't you dare trick me!" Nice, I have a way of running from danger but can't use it. She starts squeezing me slowly while I put pressure on those damn nuts. Nothing happens, they are hard as rocks and have the purpose of giving me a rough time. She advances with her tormenting and I keep trying to break the nuts for my own relief. Why the hell aren't they breaking? She is squeezing me so hard now that I can't even breathe, let alone bring my palms together. I give up and fall on my knees, with her hand not moving an inch from where it was. I fall on my back, still holding the damn nuts. She lets go but puts her foot on my balls. "I'll press until they break!" Which one? The one in my hands clearly have a plan to destroy me while the ones under her foot are not really there anymore. "Oh, I have an idea" No no no, another idea now? What is she… and I'm not able to finish that thought because she kicks me hard in the same spot. So hard that I clench my hand and I break the nuts in pieces. "See? It works…" Yea, that worked for her but I'm having doubts that my own nuts will ever work again…
She goes to her room as if nothing happened, letting me lying on the kitchen floor, barely breathing and holding my legs together. "Are you coming?" she yells at me. Sure, because I can be in my feet right after I have a surgery… not now though. I figure I should go anyway, even if I have to crawl. I reach in her room on all four, like a dog. There's no way I'm standing in this condition. "Aaaw, poor baby, do you have an ache?" One? I feel like 5 different ones… "Let me fix you" she says, pushing me with her foot and making me fall on my back. She pulls my pans and undies away. Perhaps now it's time to enjoy something nice… Goes to the kitchen and comes back with a huge bag of ice which she lets go directly on my sack. The coldness of that bag, its weight and the fact that it has been dropped from 6 feet on my balls made me want to have another foot kick instead. Wish accomplished, she kicked the bag harder on my groins as is she wanted to see it going inside. If this is not the mother of ball busting, I don't know what is. With a suppressed scream I started to crawl on my back further from her. It was like a war scene where the soldier has been captured and tortured by the enemy for information. The difference was that I had no information, otherwise I would've spit it out long ago. The bag of ice felt behind and let a water trail to my balls. "You forgot this" she says, lifting the ice and coming with it towards me. I close my eyes and wait for another hit, but she puts it in my hands. "You don't think you're going to need it?" Well, I don't need any of these, but to be honest, that bag of ice could be nice if "administrated" properly. It's interesting that she lets me use it. I take it with a gratitude face and think how to press it slower on the area, but I don't get to do anything. She kicks me again, even harder. This makes me almost throw the ice on my manhood, going from a burning pain sensation to a burning cold one.
"Uh, I have an idea" says and goes away. What to expect? Boiling water? A leather strap? Perhaps a torch… No, none of these, it would take out the fun for her… so there she is, with a nice pair of high heels in her feet…